The shopping centres and office buildings in the GPT portfolio are community destinations which attract people who come for work, shopping and leisure. This means that we touch the lives of millions of Australians every day whether they be employees, customers, members of the community, contractors or suppliers. We've long understood that our financial success ultimately depends on the health and prosperity of the communities in which we operate.
As a highly trusted property group, GPT we want to create a meaningful social and economic impact to help sustain the communities we're part of. Our commitment is to enable lasting positive change for the communities surrounding  our assets and the broader Australian society. At the same time, we must create economic value for our business and investors.
We recognise the need to respond to community challenges on multiple levels. At the societal level, we know that our most effective contributions are made through aligning our activities to our corporate strategy and matching them to the core capabilities of our business. At a local level, we're focused on helping to build the capacity of communities in which we operate to engage in, articulate and realise their vision of a sustainable future.
GPT's commitment to Community Engagement is outlined in GPT's Community Engagement & Development Policy.
GPT'S COMMUNITY FOCUS AREAS
GPT has carried out extensive research into the needs of its communities identifying three areas of focus:
health and wellbeing
inclusivity
employment and skilling
INCLUSIVITY
For GPT, inclusivity means supporting community partners, programs and services which help connect people in the community and provide opportunities for those who are more vulnerable, currently excluded from society or disadvantaged. This involves developing or supporting programs that actively tackle pressing issues such as social isolation and youth homelessness.
Promoting social inclusion includes facilitating access to GPT's assets for the community, by providing hubs and meeting places and by celebrating or supporting social and cultural events.
Examples  of GPT's hosting programs and events that promote social inclusion and have a positive impact on the community are highlighted below.
Sensitive Santa
In 2015, GPT's retail assets, Charlestown Square, Rouse Hill Town Centre, Parkmore Shopping Centre, Chirnside Park and Highpoint Shopping Centre delivered the 'Sensitive Santa' initiative for the third year in a row. This program invites families with a child on the autism spectrum to have a photo with Santa without the sensory overload typical of shopping centre Santa photos. Families could book time with Santa without queuing, and the children  experienced a photograph with Santa in an autism-friendly environment.
The calm sensory environment provided a low stress, peaceful setting for the families who might have otherwise avoided entering a busy shopping centre at Christmas.
Reconciliation with Australia's First Nations People
GPT acknowledges the past and strives to build better relationships between the wider Australian community and First Nations People.
In 2015, GPT partnered with Reconciliation Australia and launched its inaugural innovate Reconciliation Action Plan (RAP). As one of Australia's largest diversified listed property groups, GPT recognises the role we have to play in assisting in the economic and social development of Australia's First Nations People. GPT's RAP outlines the Group's strategic objectives and targets over a two year period, across three specific areas: respect, opportunities and relationships. GPT aims to build strong relationships, provide more opportunities and promote a culture of respect for First Nations employees and community.
GPT uses its position as an ASX 100 listed organisation to build awareness of the importance of reconciliation. Read more about GPT's approach and innovative RAP. 
GPT Employees Volunteering
GPT encourages its staff to volunteer their time one day each year. This provides an opportunity to give back to the community and develop a greater awareness of the different challenges faced by others.
By partnering with selected charities such as The Smith Family, Danila Dilba and Mission Australia, GPT aims to promote positive change in the communities where it operates.
EMPLOYABILITY AND SKILLING
Learning, skills and employability are central to the well-being and economic participation of the communities surrounding GPT's assets. Our investment in this area is about working alongside partners to improve the access to learning, educational and employment opportunities in the communities where it operates.
GPT recognises that there are particular groups within the community that face more challenges in relation to employability and skilling. These include unemployed youth, seniors looking to re-enter the workforce and people with disabilities. Examples of GPT's work in this area ranges from direct initiatives such as the Property Industry Foundation to giving work experience to the long term unemployed or those with a disability.
Property Industry Foundation (PIF)
People under the age of 25 make up around half of the homeless population. One in 51 girls aged between 15 -19 used a homeless service last year and children using homeless services has increased by around 15,000 across Australia in the last couple of years.
According to the 2011 census there were over 44,000 young people homeless, meaning that around 43 per cent of the Australian homeless population are aged under 25.
PIF's vision is to unite the national property and construction industry in an independent initiative to support community programs aimed at young people at risk. The Foundation supports 20 children's charities and runs a national program that provides accommodation to young homeless people.
GPT's Chief Executive Officer Bob Johnston is the National Chairman of the Property Industry Foundation and GPT's Head of Office and Logistics Matthew Faddy is a member of PIF's NSW Board of Advisors.
CareerTrackers
In 2013, GPT began a partnership with the CareerTrackers Indigenous Internship Program and began providing 12 week internships to First Nations People university students. This program was designed to provide university students the opportunity to work within GPT and learn skills relevant to their degrees.
Since joining the program, GPT has provided 13 internships through CareerTrackers continues to offer opportunities for its interns to grow and develop their professional careers.
STREAT
STREAT is a social enterprise that provides hospitality training, work experience, support and employment to homeless and disadvantaged youth while simultaneously offering individual case management, counselling, group life skills programs, social activities and access to specialist service providers.
A core element of STREAT's enterprise involves running cafes and coffee carts. GPT partnered with STREAT in 2010, shortly after its inception, and houses the longest running and busiest of STREAT's cafés at its Melbourne Central shopping centre. GPT has:
provided STREAT a location in the Melbourne Central. Around 50 per cent of STREAT's revenue to date has come from the Melbourne Central café that began as a coffee cart in 2010 has since served more than half a million customers
promoted STREAT through various activities and directly supported events such as the Sleepless in September outdoor sleep-out event. In 2015, GPT assisted STREAT to generate public relations material valued at $381,970 and with a reach valued at more than $5 million; and
provided STREAT with in-kind support through sharing of business, finance and marketing expertise to support its back office functioning and strategic direction.
By the end of 2015, STREAT has worked with 452 young people providing over 38,000 hours of support and training while serving more than 1.25 million customers.
Charlestown Square Welcome Team
The Hunter Volunteer Centre and GPT Charlestown Square teamed up in 2014 to form the HVC Welcome Team. Charlestown Square is the largest shopping and entertainment destination in the Hunter region, with more than 270 specialty stores and 3500 car spaces. The HVC Welcome Team is a group of friendly and fun-loving volunteers who love helping people. This could be from assisting visitors find their cars or guiding visitors through the centre.
This program trains volunteers who want to be employed in retail and customer service. All team members receive training in customer service and retail skills to gain a Statement of Achievement. This role is approved by the Centrelink Volunteer Work Initiative and Mutual Obligation schemes.
During their time on the HVC Welcome Team, volunteers develop customer service skills and experience, build relationships with all centre staff and are able to network with retailers who recruit on regular basis.
HEALTHY LIVING
GPT contributes to healthy living in two ways:
 tackling societal challenges, such as obesity, by supporting national community partners in reaching more people and raising awareness about healthy eating and active lifestyles
the creation or support of local initiatives that promote healthy living behaviours that actively improve the health and wellbeing of our communities.
Example of healthy living programs include encouraging health in our building occupants with 'End of Trip' facilities and supporting the Healthy Hunter Region.
End of Trip facilities
GPT advocates proactively encouraging the health and well-being of the occupants of buildings mindful of the long-term health risks of sitting at a desk all day are now being compared to smoking.
This has led GPT to provide more amenities in its office buildings that encourage white collar workers to adopt less sedentary lifestyles. This includes opening End of Trip facilities in many of its office buildings in Sydney, Melbourne and Brisbane, that include bike storage, showers and lockers.
SUSTAINABLE COMMUNITY INVESTMENT
GPT's Shared Value approach focuses on creating measurable economic benefit while improving the social and environmental conditions of the communities where we operate. To ensure GPT generates business value simultaneously with social value, we continue to look for new and innovative ways to engage with communities around our assets, in order to tackle key social issues. Shared Value is about moving beyond philanthropy and corporate social responsibility. It is about being more strategic, thinking simultaneously about GPT's business interests and our capacity to contribute to positive and lasting change in the communities where we operate.
Developing an approach that drives both business and societal value has been critical to our overall economic success, and enables GPT to make long-term community based commitments which has positioned us  at the forefront of emerging community challenges and opportunities.
If you are interested in working with GPT, please read GPT's Sponsorship and Community Partnership Guidelines that details our evaluation and selection criteria, and the process to apply.
Community Contribution
GPT's Community Investment Protocol aims to capture all material community-related investments made by GPT including:
time volunteered by GPT employees,
direct community investment
in-kind giving and
monetary contributions through donations and sponsorships.
Community and shared value investment spend has increased in 2017 compared to the prior year, reflecting our continued focus on investing in, and creating value for, the community. The spend has increased more than four-fold since 2010 levels, as shown in the graph below: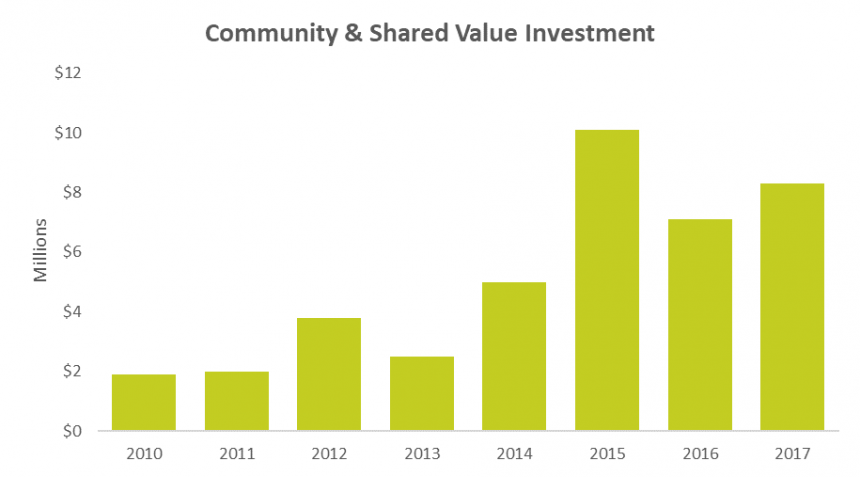 Community Investment Reporting - 2017 Results
In 2017, $8.3 million was invested in community and Shared Value projects as detailed below:
| Contribution | 2017 ($) | 2016 ($) | Explanation for change in spend | Examples |
| --- | --- | --- | --- | --- |
| Direct Shared Value community investment | $6.9m | $6.4m | Increased spend on end-of-trip facilities during the year, and an increase in community events held at our retail assets. | Playground and community gardens, family entertainment and community events, free public WiFi, End–of-Trip facilities. |
| Sponsorship | $0.4m | $0.3m |   | Various sponsorships at an asset level, Property Industry Foundation at the corporate level. |
| Volunteering time | $0.2m | $0.2m |   | GPT employees volunteering throughout the year and on the annual Community Day. |
| In kind provision of charity and community space | $0.5m | $0.1m | We continue to improve our data collection processes. | Providing space in shopping centres or office building foyers for charity and community events. |
| Management support | $0.3m | $0.1m | Significant employee involvement in the development of GPT's second Reconcilliation Action Plan, and the establishment of the GPT Foundation. | GPT employees working on programs, activities and systems to deliver community outcomes. |
Staff Volunteering
The percentage of staff volunteering remains high at 66%, although is lower than our target of 75% participation.