GPT's Climate Change and Energy Policy commits the group to carbon neutrality in areas within control of the business while also encouraging stakeholders within the group's influence to reduce greenhouse gas emissions and energy use.
Since 2005 the Group has achieved:
40% reduction in energy intensity and;
57% reduction in emissions intensity.
In 2016 this meant:
$18.2 million of electricity and $1.2 million of gas bill costs avoided; and
126,336 tCO2e greenhouse gas emissions avoided *.
*compared to 2005 baseline
GPT's Environment Data Pack provides detailed analysis by portfolio and property.  
Background and Policy
GPT recognises that greenhouse gas (GHG) emissions globally are at unsustainable levels and society needs to respond urgently to climate change through both carbon reduction efforts to minimise the consequences of climate change, and adaptation to address climate change impacts that cannot be avoided.
The greenhouse emission reduction program has been recognised as an important component of GPT's Shared Value program with emission reductions proving valuable for the business while meeting a number of societal needs in the transition to a low carbon economy.
GPT participates indirectly in climate change public policy development through membership and participation in a range of industry organisations including the Property Council of Australia, Green Building Council of Australia and the City of Sydney, Better Building Partnership. The full Climate Change and Energy Policy is publicly available and contains the policy background and commitments.
Energy efficiency
Energy intensity down 3% year on year, down 40% since 2005 avoiding $19.4 million in energy bills in 2016 alone.
Developing onsite low carbon and renewable energy systems 
1.650 MW of solar PV systems installed 7 MW of cogeneration/trigeneration systems installed.
Purchasing electricity from sustainable, zero carbon, renewable sources

Purchasing offsets as a method of last resort
3,352 tonnes of greenhouse gas emission offset credits retired in 2015 for GPT management office carbon neutral program.
Result
Greenhouse emissions intensity down 3% year on year and 58% on 2005 baseline.
Targets
GPT's specific climate change and energy targets, and performance against targets, are summarised below:
| Target | Performance and progress |
| --- | --- |
| 2016 target to reduce carbon emissions to 58 kg CO2e/sq m. | Achieved 57 kg CO2e/sqm |
| 2017 target for base building carbon emissions | 56kg CO2/sq m (5% decrease) |
| 2016 target to reduce energy consumption to 338 MJ/sq m | Achieved 341 MJ/sq m |
| 2016 target for operational base building energy intensity | 338 MJ/sq m (3% decrease) |
| Employees performing their roles and tenancies occupied by GPT Employees to be Carbon Neutral | GPT's Tenancies and work environments have been certified Carbon Neutral. For details refer to GPT Carbon Footprint |
| Weighted average 4.5 star NABERS Energy across office portfolio | Target exceeded in 2016, 5.2 stars with Green Power, 4.7 stars without. See NABERS Ratingsfor more information ) |
Our ongoing target is continuing to improve environmental performance above the average rate of the Global Real Estate Sustainability Benchmark - Green Stars in all relevant environmental categories while continuing to strive to meet the aspirational targets as fast as commercially viable. 
Initiatives
Energy is a valuable and costly resource that can also have a strong environmental impact. GPT has improved energy efficiency, avoiding $19.4 million in energy bills in 2016 alone through:
Better energy information and diagnostic systems
Smarter control strategies and
A rolling program of lighting and air conditioning system upgrades
Energy intensity is calculated by taking the annual base building energy consumption as measured at the utility meter for electricity, gas and other fuels if applicable, and dividing by the total lettable area of the building.
In addition to energy efficiency, GPT has lowered carbon emissions through fuel switching. In some cases replacing grid coal power with onsite gas powered electricity generation and in others through generation of onsite, renewable, solar electricity.
On-site renewable energy generation
Over the past four years, GPT has increased on-site renewable energy generation capacity from zero to 1,650 kilowatts. This includes the addition of Australia's largest shopping centre rooftop solar project at Casuarina Square in Darwin in late 2015.
| Property | Peak solar capacity (kW) |
| --- | --- |
| Casuarina Shopping Centre | 1250 kW |
| Rouse Hill Shopping Centre | 350 kW |
| Homemaker Maribyrnong | 50 kW |
| Total | 1650 kW |
Cogeneration and trigeneration systems are able to use gas as a fuel source generating electricity simultaneously with heat maximising useful energy extraction. This form of energy generation produces less greenhouse emissions per kW of electricity than regular grid electricity. 
| Property | Gas generator electrical capacity (approx) kW |
| --- | --- |
| Charlestown Square Shopping Centre | 2800 |
| Liberty Place, 161 Castlereagh St | 1200 |
| ONE ONE ONE Eagle St | 1200 |
| 530 Collins St | 800 |
| Workplace | 800 |
| 150 Collins St | 300 |
| Total | 7100 |
GreenPower procurement
Emissions from grid supplied electricity have been reduced through the purchase of Government accredited GreenPower. In 2016 over 30% of base building electricity or 39.2 GWh of electricity was supplied as certified GreenPower (excluding some joint owned and externally managed assets that are not supplied with GreenPower).

Scope 2 emissions and the Greenhouse Gas Protocol
The revised Greenhouse Gas Protocol, published in January 2015, now recognises the choice companies can make in their electricity sources and allows for accurate reporting of emissions avoided related to purchasing GreenPower. 
GPT continues to apply the National Greenhouse Accounts Factors for standard grid electricity with a zero carbon factor for purchased certified GreenPower.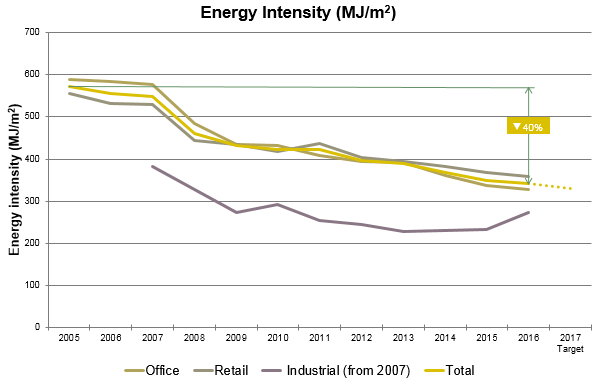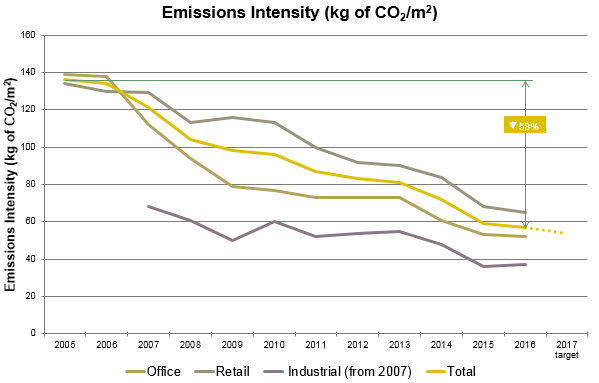 Emissions include scope 1 and scope 2 emissions in accordance with the Greenhouse Gas Protocol.
GPT's Processes to Achieve Reductions
Savings have been achieved through a range of initiatives informed by diligent metering and monitoring of energy use that enables us to make informed decisions on the most effective and efficient means of reducing energy and greenhouse gas emissions.  Key initiatives include:
Energy Efficiency
Use of energy efficient appliances in new developments
Efficiency upgrades at existing sites where viable including lighting replacements, installation of separate switches, installation of PE cells, and use of sensors.
Replacement with more efficient appliances as part of normal maintenance and capital programs, including making use of variable speed drives for escalators and higher efficiency chillers.
Changing the start/stop time on mechanical plant (especially air-conditioning plant) to best match occupant needs.
Passive energy
Use of passive forms of energy and natural ventilation where possible. For example, at Rouse Hill Town Centre the Building Management System adjusts shades to optimally use the sun for warmth and lighting.
Metering
Sub metering systems provide detailed energy information to site teams via advanced analytics.
Targets and monitoring
Continuous commissioning to ensure systems maintain efficiency
Site teams committed to annual and longer term targets, and provided with training to micro-monitor performance and calibrate systems for optimal efficiency
Operations management receiving frequent performance reports at asset and portfolio levels
Management, monitoring and incentives.
On-site energy production
Implementation of on-site energy production. For example:
A gas trigeneration facility is in use at One One One Eagle Street to provide base building electricity requirements with waste heat creating cooling through an absorption chiller
At Charlestown Square, a cogeneration facility is being used to provide electricity for base building services as well to tenants.
Renewable energy
Installation of solar PV systems including the 1.25 MW installation on Casuarina Square shopping Centre
Purchase of certified GreenPower
Tenant support
Training for Investment Managers in environmental outcomes and on-going communication with tenants.
Green leases, fitout guides and minimum standards to reduce tenant GHG emissions.
Site tours to renewable energy plants to aid tenant education and awareness on how 'green' electricity is produced.
Read about our case studies for more information on of how GPT has achieved energy and emissions reductions. 
Exploring Carbon Neutrality
GPT has achieved its commitment to provide carbon neutral workplaces for all GPT staff by improving the efficiency of its workspaces, utilising renewable green power and purchasing offsets for the remaining emissions. To achieve carbon neutrality GPT has:
Improved energy efficiency
Reduced paper consumption
Introduced video conferencing between major centres resulting in a reduction in travel
Purchased zero or low carbon products, especially Green Power
Used certified offsets as a last resort to compensate for unavoidable emissions.
A summary table of operational emissions associated with GPT employees performing their roles and operating tenancies occupied by GPT employees was recently prepared for year ending 2015. This includes the head office, MLC Centre tenancy and management offices at GPT managed properties.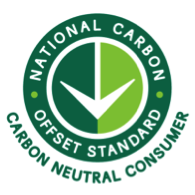 GPT's Greenhouse Inventory was compiled by Pangolin Associates and certified against the National Carbon Offset Standard (NCOS).
Climate Adaptation
GPT has commissioned specialist advice to assess the exposure of the asset locations to projected climate changes. Some assets, such as Casuarina Square and Sunshine Plaza, are located in areas that already face severe climatic conditions. However the majority of GPT's assets are sited in areas that are not forecast to suffer the most severe climatic changes in the foreseeable future.
GPT recognises climate change is a real threat and as such its consequences are addressed as part of a normal risk management framework. GPT continually monitors revisions to projected climate change that are based on sound scientific criteria relevant to Australian conditions, and update asset and business risks accordingly. Membership and participation in the Property Council of Australia and the Australian Sustainable Built Environment Council provides access to the latest adaptation information.
Operationally, GPT continues to update and adjust contingency, maintenance and asset replacement plans to take account of potential climate change impacts. While climate change may increase the intensity and frequency of flooding, extreme heat days, hail and wind storms, these and their secondary impacts already occur and are planned for.
Challenges and Outlook
Mitigating and adapting to climate change is a complex global issue and we recognise that achieving sustainable energy supplies requires widespread support and the cooperation of many stakeholders. GPT is taking an active role in meeting the many challenges, such as those outlined below:
The Challenge and GPT's Approach
Skills and expertise development (internally and externally)
Making sustainability data accessible through a company-wide computer system to provide reporting that meets the needs of all users, from site level to the Board
Participating in precinct programs including as a foundation member of both the City of Melbourne1200 Buildings project and the City of Sydney Better Buildings Partnership
Contributing to the Energy Efficiency Council training and accreditation project
Presenting at conferences and training courses such as for the Facility Managers Association and Australian Institute of Refrigeration, air-conditioning and Heating.
Industry standards
Participant in the Technical Working Group guiding the development of a Net zero carbon standard for operational buildings.
On-site energy generation
To help address barriers to implementing and connecting on-site energy generation to the electricity network, GPT is
working with the Property Council of Australia to encourage greater recognition of demand side management opportunities;
and using our experience in on site electricity generation as examples when barriers to greater uptake of distributed generation are being considered.
Value and rating of energy efficiency
GPT contributed to the Green Building Council of Australia development of the Green Star Performance tool for existing buildings to improve understanding of energy efficiency and environmental impact of existing buildings.
Tenant support
To improve tenant awareness and understanding of energy efficiency and renewable energy generation, The Group is:
holding Building Management Committee meetings to provide information to tenants on building performance and how the tenant space interacts;
using the GPT head office workspace to showcase energy efficient technologies along with best practice material and resource efficiency for tenants; and
conducting tours to renewable energy sites for tenants and other interested people.
Carbon Pricing
While Australia has moved away from a carbon pricing model it remains a strategy that could be reapplied in the future. GPT mitigates the risk of a carbon price through the energy efficiency program while any increased costs of electricity and gas creates a greater incentive for energy efficiency and renewable energy projects.