GPT is committed to a 'closed loop' approach to resource use and minimising waste to landfill in all areas within our control, and to supporting and encouraging improvements in areas within our influence.
At GPT In 2016:
Recycling rates improved from 29 % to 41 % (compared to the 2005 baseline recycling rates)
4,237 tonnes of waste to landfill avoided (compared to the 2005 baseline recycling rates)
we implemented waste contracts that require more accurate and insightful reporting.
Background and Policy
GPT recognises that resources are being consumed and waste generated at unsustainable rates. We believe we can reduce these impacts, particularly relating to occupants' waste management.
Managing waste and resources responsibly enables:
reduced waste costs;
preparedness for emerging regulations and increasing community expectations; and
contributing towards a world that uses resources at rates that can be replenished and disposes of waste at rates that can be re-absorbed without harm.
Developing assets is resource intensive by nature and potentially generates significant waste. GPT minimises development impacts by working with builders to:
undertake material selection sensitive to the environmental impacts
maximise recovery from demolition works and
minimise waste in the construction process.
GPT's Waste and Resource Management Policy contains our complete policy background and commitments.
Targets
Operations target:  Achieve operational recycling rate for managed tenant waste of 47% in 2016.
Outcome:  With a 41% recycling rate, the target was not achieved.  Improvements in data validation during 2016 have excluded some previously reported recycling data.  However, assets that are early adopters of the new waste management process are seeing improving material recovery performance
Over the past three years, GPT undertook  a comprehensive and disruptive reform process to operational waste management. This included a new approach to reporting where waste is tracked to better understand what happens to different waste items though the different processes.
Ultimately, GPT aims to achieve closed-loop resource use, meaning waste materials are recovered in a way that enables them to re-enter the same production cycles and used for the same purpose . The quality of recycling, or the retention of value in the recycling process, needs to be considered when understanding if a closed loop approach is being achieved.
To address this, GPT is adding a quality measure to waste reporting and targets. By the end of 2016, all waste contracts in GPT managed assets incorporated requirements for standardised quality measures. A number of GPT co-owned but non-managed assets also began incorporating the quality measure in waste reporting.
Broadly, this GPT initiative is described as outcomes based reporting where recycling quantity and quality are reported. The quality is measured as different grades for the recovery outcomes where:
A-grade recovery meets the closed loop objective and are recovery processes that can occur repeatedly; for example fibre and metals recovery, as well as food waste processing to a standard that produces a product with no end use restrictions
B-grade recovery status is applied to processes described as down-cycling. An example of downcycling is the use of mixed food grade plastics to produce a packaging, non-food grade plastic. This does not meet the GPT closed loop objective, but avoids landfill disposal. B-grade recovery is for downcycling items to lower value commodities
C-grade recovery is for processes that have a one-off end of life re-use that does not meet GPT's closed loop objective; for example, Organic growth medium (OGM) from a mixed source waste that is produced in an alternate waste treatment facility or mine site rehabilitation. It may only be allowable to apply the product once. 
GPT has published a discussion paper on outcomes based reporting titled, "Taking the Rubbish out of Recycling Data". 
The 2016 target is compared to the 2014 and 2015 results below:
|   | 2014 result | 2015 result | 2016 target |
| --- | --- | --- | --- |
| A-grade recovery |   | 25% | 38% |
| B-grade recovery |   | 4% | 6% |
| C-grade recovery |   | 14% | 3% |
| Recycling rate | 47% | 43% combined recovery | 47% combined recovery |
Operational Waste Management - Performance and Initiatives
GPT has improved its overall recycling rates for operational waste from 29% in 2005 to 41% in 2016. The 2016 result reflects a small decrease (2%) on the 2015 reported results and was below the target of 47%.
The shortfall in both cases was mostly as a result of excluding previously reported recycling figures that did not meet the new reporting standards.  It did not result from a reduction in the actual recycling outcomes from 2014 to 2016 operations.  In fact, those assets showed considerable improvements in recycling.
In 2016, continuation of improved data validation processes resulted in the exclusion of some data that previously would have been reported as recycled. This tighter control of data has slightly masked the improvements in process with new contracts and recycling streams that lifted the amount of resource recovery.
GPT is continuing to improving data validation by refining reporting regimes across the assets whereby the quality of the recycling will be reported as well as the quantity. The reporting requirement includes:
More accurate weights through site weigh-offs and validated site density measures
Deducting contamination from recovery figures
Grading the outcome of recovery processes against the closed loop goals
Grading of recycling outcomes.
Recycling Rates
GPT acknowledges that the first strategy in avoiding landfill is reducing waste within our control. We've reduced paper consumption by over 70% in the past five years.  However, the majority of waste collected at GPT assets is from tenants and visitors, so our waste management program focus is maximising the quantity and quality of recycling.
The charts below tracks the recycling results of GPT portfolios across the past ten years.  Here's the splitting of the recycling data into A, B and C grades from 2015 onwards:
When comparing different portfolio types, on average, office assets achieve the highest recycling rates. The Office and Retail portfolio drop in reported recycling rates in the recent years is driven by the adoption of outcomes-based reporting at GPT managed assets where contamination is now deducted from recycling figures and weights are more accurate.
As outcomes-based reporting is now approaching 'business-as-usual' in the Retail portfolio improved decision making should drive recycling rates back up in 2016. However continually  improving data integrity in the office portfolio will likely see further declines in the reported recycling rates in office assets until 2017.
It is important to note that these changes were expected to initially push down reported recovery rates at assets. Recycling services were not decreased. Instead, there is a continued improvement in data integrity that better reflects the results.
The chart below shows a comparison of the recycling rates for the different portfolio types over the past decade.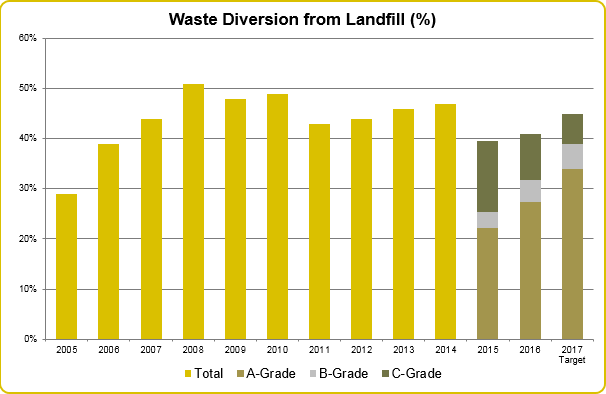 For more detailed information about the performance of individual assets refer to the GPT Data Pack.
2015 Operational Waste Outcomes
The following table shows the breakdown of waste and recycled materials for 2015 with an explanation of the outcome grading:
| Items | Weight (tonnes) | Explanation | Grade Outcome |
| --- | --- | --- | --- |
| Aluminium | 31 | Aluminium is recovered in mixed container bins and returned back into the same production cycles as the original product.  This is considered an A-grade outcome.  | A |
| Co-mingled - no profile | 970 | This stream is still in transition and its composition has not yet been broken down into the recoverable materials which may include plastic, steel, aluminium and fibre products.  Co-mingled waste is collected in yellow mixed recycling bins and conservatively reported as B-grade outcomes until the composition profiling is completed.  | B |
| Energy recovery | 115 | Waste cooking oil is turned into biodiesel.  It is considered an A-grade outcome as the source of cooking oil is biomass and therefore the process is using a renewable fuel.  | A |
| E-Waste | 26 | E- Waste encompassing electrical devices ranging from computer and printer cartridges through to lamps.  Depending on the process, recovered items are  A-grade (closed loop) or B-grade (downcycling).  Whilst the weight of E-Waste is only a small part of the total waste, GPT believes it is important to manage tightly and report transparently as much of the E-Waste contains components that can be toxic to people and the environment.  | A & B |
| Ferrous metals | 151 | Ferrous metals are recovered in both mixed container recycling bins as well as dedicated steel bins on some sites.  This material can go back into producing similar steel products and be considered A-grade recovery.  | A |
| Fibre recover | 7019 | Paper and cardboard products are made from fibre which is recovered to make further paper and cardboard products.  This is considered A-grade recovery.  | A |
| Glass | 675 | Glass is mostly recovered through mixed recycling streams, although in some cases it is recovered in separate bins.  When the recycled glass goes back into making bottles etc., this is considered an A-grade result.  However, often facilities aren't able to separate glass colours cost effectively and so the glass is crushed and added to road base which is considered a B-grade result. | A & B |
| Landfill | 21743 | All waste going to landfill is reported this way, including contamination deducted from material recovery streams.  |   |
| Organics | 2808 | Organics are A-grade when source separated and sent to an appropriate facility, organic waste (mostly food) can be turned into soil products for improved food production.  When organics are recycled through mixed waste processes, they generally have a level of contamination which leads to a restriction of only being allowed to be applied once to restricted sites such as mine rehabilitation sites.  In these case it is considered a C-grade outcome.  | A & C |
| Other recyclables | 4288 | This category is generally used for reports from assets that not managed by GPT and are not providing a breakdown of the recycling.  To be conservative, this is considered a C-grade outcome.  GPT is working with its external managers to improve this information.  | C |
| Plastic-containers | 158 | These are the plastic bottles and containers that are generally disposed of in the yellow recycling bins. Whilst this can be returned to the same production cycles which would be considered an A-grade outcome, many facilities don't directly separate the different types of plastics so it is usually considered a B-grade outcome. This is because there is a risk of a lower grade plastic being produced if these plastics are mixed in their next production cycle.  | B |
| Plastic - hard | 22 | This is mostly expanded polystyrene which is used in the production of further polystyrene products – an A-grade outcome.  | A |
| Plastic - soft | 63 | When soft plastics are separated and returned to appropriate facilities, they can be turned back into similar products which is considered an A-grade outcome.  However where this cannot be demonstrated, they are assumed to enter a mixed plastics recovery process and achieve a downcycling or B grade outcome.  | B |
| Total | 38067 |   |   |
Hazardous Waste
GPT maintains a rigorous site management system designed to avoid generating hazardous waste. Asbestos registers are maintained at each site with well-developed management protocols.
Site Fit Out Guides and House Rules control the use of chemicals on site by tenants and contractors.
Development Waste
In general, GPT does not have operational control of waste from development sites. However, GPT does influence how contractors and suppliers manage waste through its Development Guidelines and Plan [link]] that include requirements for material selection and waste management.
For example: the Wollongong Central development commenced in early 2012. By the end of 2014:
96% of construction and demolition waste was diverted from landfill
In addition to construction waste, a large volume of material has been excavated and removed from the site
In total 70,000 m3 of rock has been removed and transported to Port Kembla for use in the outer harbour expansion.
Outcomes-based reporting
In adopting the principle, "What is measured, is managed", it is important that the measures truly inform about progress and enhance decision making.
GPT has developed and implemented more accurate and informative measures which are collectively referred to as outcomes-based reporting. Put simply, this reporting style provides understanding the final destination (the outcome) of waste items in GPT assets instead of just providing information about which bin (the input) that item waste was placed in.
'Taking the rubbish out of recycling data' - a discussion paper about an outcomes-based reporting approach to waste management', by Steve Ford, GPT's National Manager for Energy and Environment, provides further insight.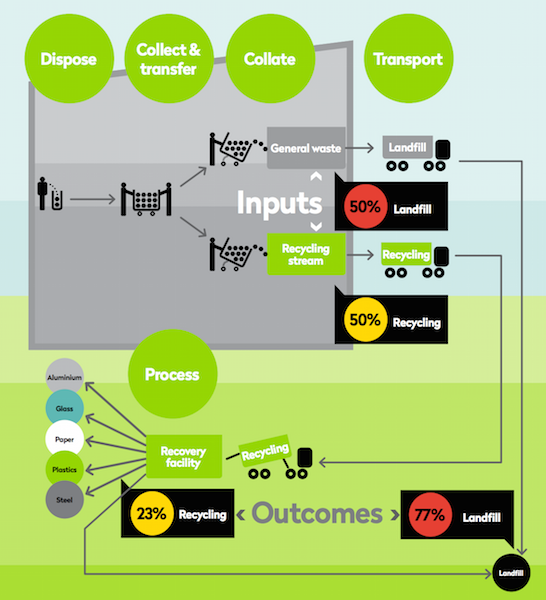 Better Buildings Partnership – Sydney
GPT has taken a leading role in the Better Building Partnership Technical Working Group on Waste. GPT's waste team have shared its new outcomes-based reporting system with counterparts at other property companies while we actively lobby for increased transparency, improved accuracy and additional qualitative information in waste and recycling life-cycle outcomes.
NABERS – Waste Manager
GPT has developed and implemented the leading working example of outcomes-based reporting in waste management.  To ensure that the processes and learnings can be more widely adopted, GPT has openly shared this intellectual property with the Office of Environment and Heritage NABERS Waste team.  GPT also sits on the NABERS Waste Manager Technical Working Group to assist in final development of the platform and tools.
Challenges and Outlook
Optimising material recovery quantity and quality depends heavily on the waste management facilities available in the proximity of each asset and tenant processes and behaviours.
As GPT has been the leading adopter of outcomes-based reporting, working with waste contractors to change their processes and to improve their understanding of GPT's systems and objectives, is resulting in a growing capacity to find solutions for the upstream tenant processes and behaviours as well as the downstream processing facilities to achieve the best outcomes.
Our focus on education and engagement is resulting in improved tenant processes and behaviours and best practice waste treatment processes are becoming increasingly commercially viable once the product they receive has lower contamination and consistent tonnages. Waste composition analysis has shown that it is possible to achieve the 98% closed-loop recovery objective and aforementioned positive feedback loop will provide the pathway forward in the coming years to move towards the target.