Our commitment to water neutrality through reducing consumption and managing water flows supports the water security of our ecosystems, communities, wellbeing and economy. With shifting rainfall patterns and increasing severity of floods and dourghts, water security and resilience is becoming increasingly important in Australia.
2020 Performance Highlights
In 2020:
We increased our water efficiency to a 62% improvement in water intensity since 2005.

The GPT Office portfolio delivered a 4.0 Star Average NABERS Water rating.

We set an objective to operate our wholly-owned and GPT-managed buildings on a water neutral basis by 2030. 

We continued delivering innovative efficiency and recycled water projects across the portfolio, like Riverside Centre's condensate and rainwater capture system.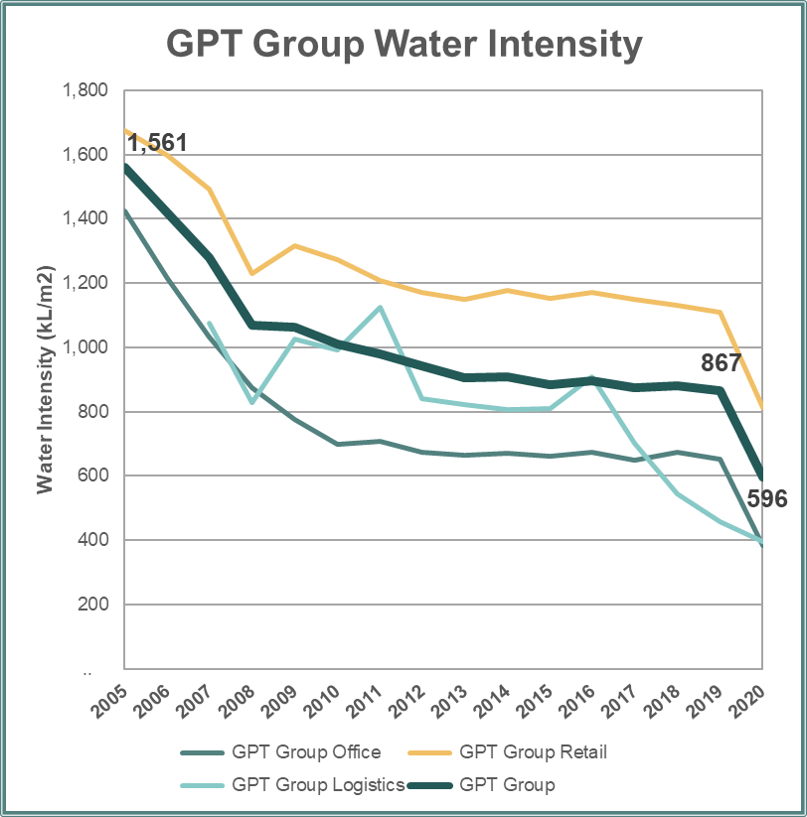 Performance Data
2005
Baseline
2019
Actual
2020
Target
2020
Actual
2021
Target
Water
62% water intensity improvement from 2005
$67.5m and 17.9 gigalitres avoided since 2005
Water Intensity
1,561
867
839
596 ✔
842
 L/m2
Total Water
2,733,739
1,756,189
1,157,719
 kL
  Non-potable water
--
64,476
50,420
 kL
   Captured / reused
--
9,443
3,802
 kL
   Onsite recycled
--
3,671
3,299
 kL
   Offsite recycled
--
52,362
43,319
 kL
  Potable water
2,733,739
1,690,713
1,107,299
 kL
The GPT Environment Data Pack details the full performance of our portfolio, funds and assets since 2005, including building ratings and attributes.
Background and Policy
GPT aims to be water neutral and resilient to water scarcity and extreme rain events. The Group recognises that water is a constrained but essential resource to the sustainability of the business and more broadly to society and the environment. GPT's Water Policy contains our full policy background and commitments.
Our commitments and intended approach to managing water are guided by the Integrated Water Cycle Management framework.
*Integrated Water Cycle Management Framework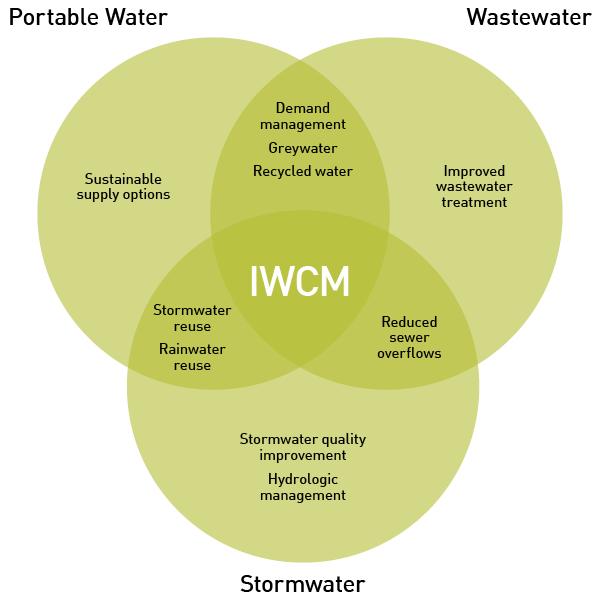 *Adapted from Hoban and Wong 2006
This framework is an approach to water management that acknowledges the interdependencies between potable water, waste water and stormwater that seeks to optimise water use on each site, whilst being mindful of the site specific constraints and opportunities and the needs of the local environment.
Our methods for delivering leading outcomes in water management
We deliver leading water management outcomes through our ISO14001 certifiable Environmental Management System, which brings together our policies and procedures, strategies and plans, and platforms and people to enable us to track our performance and progress in a systematic way.
Savings have been achieved through a range of initiatives informed by diligent metering and monitoring of water use that enables us to make informed decisions on the most effective and efficient means of reducing consumption. Key initiatives include:
Targets, monitoring and metering
Targets are set annually for each asset, taking account of improvement plans and performance, and we monitor and report this internally through the year;
Management KPIs and incentives are aligned with environmental performance targets;
Site teams are provided with training to micro-monitor performance and calibrate systems for optimal efficiency;
Metering systems are installed and systems continuously commissioned to ensure systems maintain efficiency;
Sub-metering enables allocation of consumption costs on a user-pays basis at an increasing number of sites.
Water-saving devices
Low flush toilets are installed in new developments;
Waterless or low water urinals installed in all new developments and retrofitted to existing assets;
Avoiding the use of cooling towers where a viable alternative is available, for example, at workplace6 there is heat exchange through Sydney Harbour.
Water capture and recycled water
Rainwater tanks are installed at many sites for irrigation and other non-potable water use;
Precinct supplied recycled water is used where available for suitable purposes, for example, the Quad buildings and 4 Murray Rose use recycled water available through Sydney Olympic Park;
Water recycling is introduced where viable, for example at workplace6 the black water treatment plant can be viewed from outside the building and is used as a public educational tool. Excess recycled water is used to irrigate the site's surrounding parkland.
Managing water discharge
Minimising contamination of stormwater run-off through site cleaning procedures;
Avoiding sewerage contamination through our House Rules and Fitout Guide requirements, especially relating to fitouts and other building works.
 Tenant guidelines and awareness
Retail fitouts have minimum standards on the adoption of water-efficient fittings and fixtures, for example waterless woks in food facilities;
Fit Out Guides and Building User Guides assist tenants in the use of low water consumption devices in Office tenancies;
Base building consumption is reported to Office tenants during Building Management Committee meetings.
Challenges and Outlook
Addressing the following challenges will support improved management of water resources and allow water to be used more sustainably.
Understanding where water is consumed
GPT continues to implement water metering to closely measure and monitor base building water consumption. This strategy is being extended to include metering to monitor consumption by tenants that are currently high users.
Non-potable water use and infrastructure suitability 
To increase the volume of non-potable water used in our new developments and building renewal program, GPT seeks to specify the use of non-potable water at the design phase of projects. This helps to ensure the appropriate plant and equipment selections are made, or the required water treatment processes are embedded into the initial stages of design.
GPT actively participates in industry bodies engaging with government and water authorities to support and encourage the continued evolution of planning and regulatory controls. 
Cost of water
While GPT can take a long term view, the relatively low cost of water can make the commercial viability of some water-saving initiatives difficult to achieve. 
Discharge flows can be an unavoidable cost for many water uses within our buildings.
Rainwater harvesting is an appealing source of water but local hydrology needs must be met. At Rouse Hill Town Centre, for example, rainwater harvesting was limited so that sufficient flows remained for Caddies Creek to be rehabilitated. 
Precinct solutions
GPT was an early pioneer of using blackwater recycling with a system installed and operational at workplaces, the first 6 Star Green Star building in NSW. The technology required for sewer mining is expected to continue to improve flowing on to enhanced economic viability and the broader community impact requiring management of sewer flows. Economies of scale and resolution of these issues mean that precinct-based solutions to alternative water supplies may be preferable for many sites.
GPT is actively engaged in initiatives such as Sydney's Better Buildings Program which, in partnership with the City of Sydney, is exploring the feasibility of reticulating non-potable water in the Sydney CBD.