GPT actively considers and addresses environmental, social and governance (ESG) risks and opportunities in our business practices and activities to create value over the long term.
Our sustainability goals and efforts align with our commitment to be a positive contributor to people, communities, stakeholders, and the environment. GPT's purpose and values guide our commitments, decisions and actions. Sustainability practices underline our operations and are integrated into our organisational culture, stakeholder engagement, governance and processes.
Effective stakeholder engagement helps GPT to identify and manage business risks and opportunities, while also informing our decisions as we act as a responsible business and create long-term value.
A proud history of sustainability leadership
The Group is listed in the Dow Jones Sustainability World Index (DJSI) and has been ranked in the top 5% of real estate companies of the S&P Global Corporate Sustainability Assessment (from which the DJSI is selected) since 2009.
The GPT Group and each of our wholesale funds has been recognised in the top quintile of the GRESB Real Estate Benchmark every year since the Benchmark's inception in 2011.
GPT has been a signatory to the United Nations Global Compact since 2012, supporting and enacting a set of core values regarding human rights, labor standards, the environment, and anti-corruption, and contributing to the UN Sustainable Development Goals.
GPT is also recognised for our commitments and performance regarding diversity and inclusion, reconciliation, and supply chain.
Policy and Approach
GPT is committed to being an overall positive contributor to our communities, people and the environment, as articulated in our Sustainability Policy. Our sustainability performance is driven by a culture of raising the bar and continuous improvement, underpinned by a suite of policies which enable our stakeholders to hold us to account.
To deliver our purpose, GPT uses resources and inputs in our business activities to create value for our stakeholders. Key inputs into the Group are our investors, real estate, our people, environmental resources, and our customers, suppliers and communities. Through the application of our business model, GPT creates value in the form of growing and predictable earnings, thriving places, empowered people, a sustainable environment, and prospering customers, suppliers, and communities.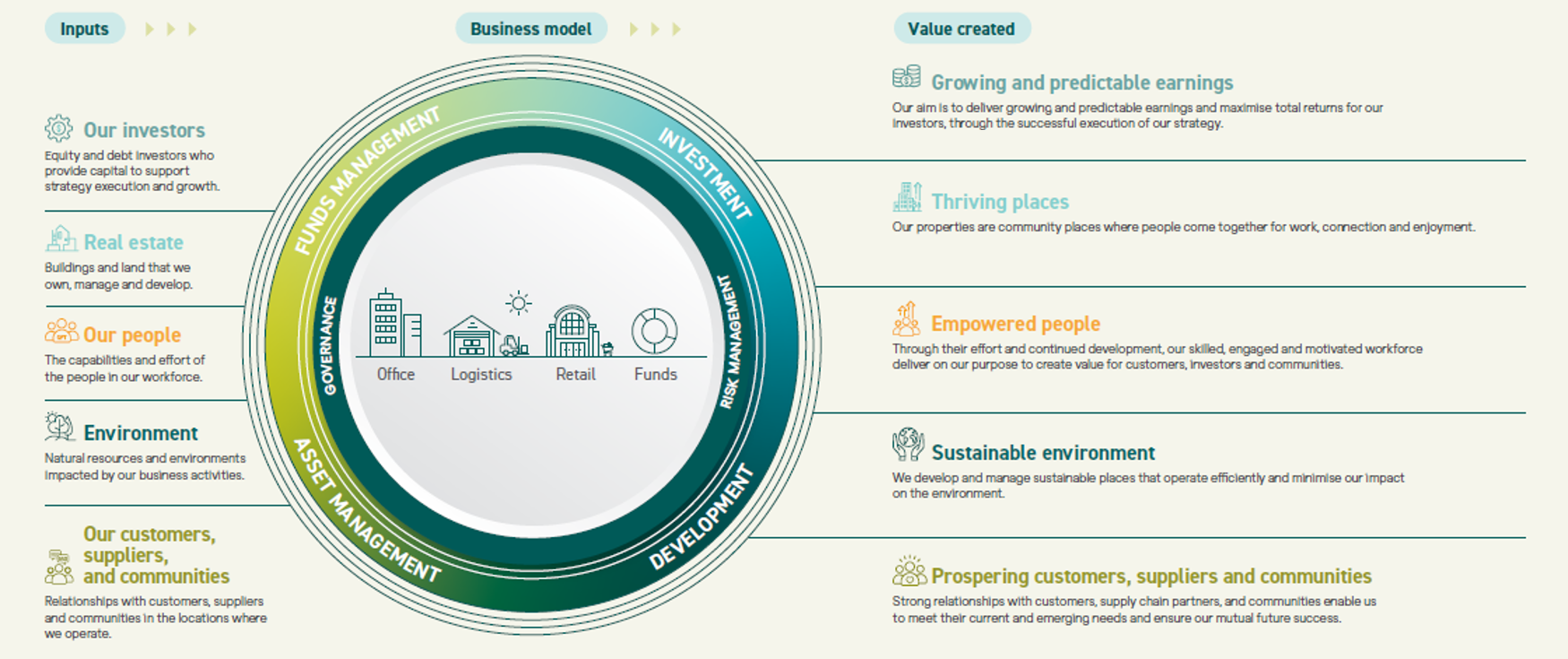 We apply the precautionary principle when considering our environmental impact: uncertainty in the long term outcomes of environmental effects should not delay action to reduce pollution and reduce consumption of non-renewable materials.
GPT fosters collaborative relationships with stakeholders to ensure that we understand their needs, interests, expectations and aspirations. Our aim is to responsibly use our influence to work with stakeholders to encourage positive sustainability outcomes. 
Find out more about GPT's approach to sustainability in our 2022 Sustainability Report.
You can explore GPT's key sustainability policies on the Policies webpage. 
Governance
Good corporate governance is a central part of the GPT's commitment to our securityholders and stakeholders. The Board strives to ensure that GPT meets high standards of governance across our operations.
The Board Sustainability and Risk Committee oversees the Group's risk management and sustainability, in accordance with its Charter.  
Find out more about GPT's sustainability governance in our 2022 Sustainability Report.
Materiality
Guided by the Global Reporting Initiative's Sustainability Reporting Standards, GPT identifies and reports on material economic, environmental and social matters that are relevant and important to our stakeholders.
GPT defines what is material to our business by considering risks and opportunities that influence our ability to deliver on our vision, purpose and strategy. To do this, we regularly engage with our stakeholders to consider their views together with research and evidence.
Find out more about GPT's approach to materiality in our 2022 Sustainability Report.
Historic reports
Sustainability reporting was provided through our website between 2010 and 2019, and was updated periodically and refreshed annually to coincide with GPT's annual reporting for the calendar year. Since 2020, GPT has published a Sustainability Report to report our performance and progress.