To encourage environments in which our people excel and our customers and communities prosper, sustainability practices underline our day to day operations and are integrated into our organisational culture, stakeholder engagement, governance and processes. We invite our stakeholders to evaluate our sustainability management through transparent information about what we do.
GPT's employees proudly deliver sustainable outcomes for investors, customers, communities and the environment. With a large proportion of GPT's stock owned by off-shore security holders, our performance and reputation is monitored in an international context.
GPT is a demonstrated leader in sustainability both locally and internationally. The Group was again listed in the Dow Jones Sustainability World Index in 2019 and has been ranked in the top 5% of real estate companies of the robecosam Corporate Sustainability Assessment, from which the DJSI is selected, every year for the past 11 years. The GPT Group has been the global real estate sector leader of the DJSI four of those 11 years.
Additionally, The GPT Group has been recognised as a Green Star in the top quintile of the Global Real Estate Sustainability Benchmark (GRESB) every year for the last seven years. In 2019, The GPT Group received a score of 86 in the GRESB survey, with its Wholesale Office and Shopping Centre Funds receiving scores of 94 and 93, respectively.
GPT was the first Australian real estate company committed to the UN Global Compact, the world' s largest corporate sustainability initiative. This commitment further challenges us to integrate sustainability into business as usual activities.
Background and Policy
Looking after the environment, today and for future generations is essential. We recognise the need to continually reduce environmental impacts, work towards sustainable resource use and ensure emissions are at or below levels that can be reabsorbed without harm.  
We also apply  the precautionary principle when considering environmental impact: uncertainty in the long term outcomes of environmental effects should not delay action to reduce pollution and reduce consumption of non-renewable materials.
GPT values quality stakeholder relationships that are connected, responsive and collaborative. Through these relationships, we understand the communities' needs, aspirations, cultures and their sense of place.
GPT aims to be a trusted and ethical business wherever our operations are located and in doing so, return value to investors as well as local stakeholders. This objective applies across our business from owning and actively managing high quality property, to development activities and funds management. 
At GPT, the voice of stakeholder communities and the needs of today's and future generations are at the heart of our decision making.  Our key decisions across investment, development and operations recognise the interdependence between environment, people and economics.
We further recognise that where we don't have control there is a responsibility to use our influence. Collaboration with tenants to help them optimise materials recovery from waste streams is an example where a partnership can deliver significant environmental benefit.
GPT's sustainability policies are at a glance below. Click on the links to discover more about the associated challenges, opportunities, strategies and targets for each of our policies. 
Stakeholder/focus and their commitments
Safeguards the health and wellbeing of employees, contractors, customers and members of the public who are either present at, or affected by GPT's assets. 
Being a highly trusted business wherever GPT operates, creating and managing assets that reflect the communities in which they are located, and returning value to these communities as well as investors. 
Working in partnership with suppliers to realise the full value of the relationships and to positively contribute to the stakeholder communities and environment. 
Maintain a strong and mutually beneficial relationship with customers that enables GPT to provide high quality, sector-leading buildings and deliver engaging and positive experiences that are appropriate to local contexts. 
Encouraging diversity in the workplace and the provision of a work environment that is free from discrimination and promotes equal opportunity for all;  particularly promoting women in leadership and other traditionally male dominated roles within the business.
Creating a high performance work environment with strong employee engagement. Employees are consulted over key aspects of their working life. Their involvement and feedback is taken on board and seen as a pre-requisite for the successful implementation of initiatives. 
Through our Learning & Development (L&D) platform we provide opportunities for our employees to maintain and develop capabilities, assisting them to achieve their career goals and ensuring that GPT has a workforce that successfully delivers our business strategy. 
We aim to reduce environmental impact and be a positive contributor to environmental sustainability.
Embedding sustainability
GPT's sustainability strategy builds on the cultural legacy of our founder, Dick Dusseldorp, who believed that a community of interest exists between investors, employees and the wider society. We strive to ensure that this principle is embedded in all that we do.
GPT's sustainability strategy directly aligns with our corporate strategy, recognising that the value we deliver to investors and customers is deeply connected to environmental performance, engagement with our stakeholder communities and accountability.
GPT has made further significant progress in responding to the challenge of embedding sustainability into our business processes, systems and activities, including the following initiatives:
continued development and application of a new protocol for measuring community and GPT outcomes (shared value) 
transformation of waste contracts and processes with improved reporting of material quantity, quality and destination
integration of solar power systems with the commissioning of a 1.25 MW solar power station on the Casuarina Square Shopping Centre in Darwin
continued focus on our ISO14001:2015 compliant Environmental Management System 
Governance
GPT's governance framework is designed to enhance the delivery of outcomes led by The Board Sustainability Committee and the Leadership Team.
The Sustainability and Risk Committee
The Sustainability and Risk Committee currently focuses on the following from a sustainability perspective:
the health and safety of GPT staff and contractors, building occupants and visitors
the environment as it impacts on and is impacted by GPT's business
engagement of GPT's stakeholder communities (employees, tenants, suppliers and the communities within which GPT's assets are located)
legal and regulatory requirements in relation to environmental matters; and
community based programs.
The Board has ultimate responsibility for ensuring that GPT's sustainability strategy aligns with our Sustainability Policy and that there are robust management systems in place for managing GPT's key areas of sustainability risk and opportunity. Read about our Corporate Governance for more information on the Sustainability and Risk Committee and its charter.
The Leadership Team
Chaired by GPT's CEO,  the Leadership Team ensures that the organisation continues to perform in a way that demonstrates integrity on our environmental position, our commitment to the communities in which we operate and the opportunities we provide for our people and business partners to contribute to current and future generations.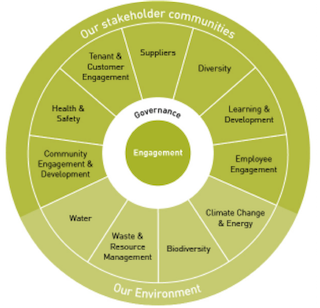 Materiality
GPT's continued international and local recognition for sustainability gives us confidence that we're well advanced in managing our material impacts across our various stakeholders. Our non-financial reporting is guided by the Global Reporting Initiative (GRI), the International Integrated Reporting Framework, the Dow Jones Sustainability Index and the Global Real-Estate Sustainability Benchmark surveys. We regularly review materiality to continually improve the quality of information provided to stakeholders.
We assess our material social and environmental impacts via:
investors and analysts
media questioning and reports
employee engagement and surveys
tenant engagement and shopper surveys
participation in external events and forums
industry memberships
dialogue with specialist consultants.
Here are some examples of stakeholder feedback used to influence GPT's sustainability focus.
Stakeholders and their views
Employees
Employees expect GPT to show community leadership in relation to the health and safety of employees, contractors and visitors.
More than 90% of surveyed employees want GPT to push the boundaries in managing energy, emissions, water and waste.
More than 76% of surveyed employees want GPT to push the boundaries in managing biodiversity.
Customers (Office Tenants)
On a scale of one (least important) to six (most important), energy efficiency, water efficiency and waste management all rated over five in importance.
In the most recent national retailer survey, 86% of retailers rate environmental initiatives and education as 'extremely, very or somewhat important'; 92% rate community initiatives to be 'extremely, very or somewhat important' and; 95% 'somewhat or strongly agree' that GPT makes an active contribution to the local communities.
88% 'somewhat or strongly agree' that environmental sustainability should be integrated into shopping centre developments and operations.
Investors
The Dow Jones Sustainability Index (DJSI) and the Global Real Estate Environmental Sustainability Benchmark (GRESB) reward disclosure of energy, water use, carbon emissions and waste streams. 
Community
Mandatory carbon disclosure under the National Greenhouse and Energy Reporting System (NGERS)
Mandatory disclosure of office National Australian Built Environment Rating Systems (NABERS).
Industry
The Global Reporting Initiative (GRI) guides reporting of environment, suppliers, customers, people and other key aspects of sustainability.  
Responding to stakeholder needs and focusing on sustainability supports the delivery of GPT's strategic priorities. For example, in the area of environmental management the following benefits are gained:
higher NABERS ratings (for office) ensure these properties are attractive to the widest range of prospective and incumbent tenants
high performance buildings can enhance the GPT brand and through association protect the brand and image of tenants. High performance properties and reporting attracts engaged employees that in turn add value to GPT
reduced resource consumption leads to avoided costs, lower utility bills for the owner and / or tenants
lower operating costs enhance the attractiveness of GPT's properties to tenants resulting in higher occupancy rates and longer term tenants.
Engaging with stakeholders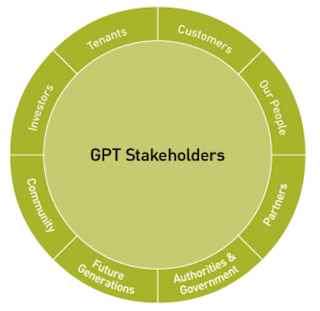 Stakeholders' Types of Engagement
Investors
Annual reviews, Annual Results Data Pack, financial results
Face-to-face briefings and meetings with investors globally
Tours of GPT assets
ASX announcements and quarterly announcements
Annual General Meetings
Refer to our Investor Relations for more information and the following sections of this table.
Customers
Surveys and face-to-face meetings
Retail outlook seminars
Retailer intranet
Office tenant relationship managers
Office building management committee meetings. 
Refer to Our Customers for more information.
Our People
Employees are involved and engaged in areas such as:
Performance management process and objective setting
Development planning
Succession planning
Comprehensive communication includes: frequent CEO updates
GPT engages employees in initiatives and projects such as the work environment; culture renewal project and brand strategy.
Refer to Our people and the section below for more information.
Community
An ongoing program of research into the communities that surround our retail properties and the communities that use our office buildings informs the four focus areas that underpin our engagement with the community, and these are readily experienced in the design and operations of the assets under GPT management. These focus areas enable us to be nimble and address relevant local material community issues: 
Local: we recognise that our assets sit in unique communities, with unique social challenges and opportunities
Connected: our assets foster social connect and business productivity
Well: our assets are safe environments that support physical, mental and economic wellbeing
Inclusive: our assets are accessible, culturally safe and socially inclusive.
GPT adopts a Shared Value approach to identify the intersection of community and business value in relation to these issues.
Refer to GPT's Community Engagement & Development Policy for more information, or the Community section of this website. 
Investor engagement
Close communication and engagement with GPT's investors is critical to ensure they are well informed of the risks and opportunities we are managing. Investors need a clear understanding of GPT's business,  vision and strategic direction to help them make well-informed investment decisions.
Primary investor interaction is via the reporting process with a full update provided to all investors on a quarterly basis when GPT announces Full Year, Half Year and Quarterly Results. This is supplemented by contact throughout the year via meetings, conference presentations, roadshows, asset tours and ad hoc contact to enable investors to obtain a deeper understanding of our commitment to sustainability.
Increasingly, investors are preferring online engagement so our  digital communications capture this preference through updates, news announcements and webcasts. 
GPT's Wholesale Fund Managers consult closely with our wholesale investors providing formal integrated reporting on a quarterly basis.
Historic reports
Sustainability reporting has been provided through our website since 2010. It is updated periodically and refreshed annually to coincide with GPT's annual reporting for the calendar year.