GPT is committed to working in partership with our suppliers to realise the full value of our relationships and to positively contribute to our communities, people and the environment.
Policy and Approach
GPT's Supplier Policy sets out our commitments and approach to managing our suppliers. In tandem with our Procurement & Expense Management Policy, these Policies ensure that our approach maintains strong probity, risk management and commercial viability while also delivering sustainable outcomes and social value through our procurement practices and supply chain management.
We are committed to being a sustainable business and aspire to be an overall positive contributor to our communities, people and the environment. This commitment depends on the performance of our suppliers and we work in partnership with them in sourcing goods and services in the development and operation of our assets and in our corporate business activities.
Many of our key suppliers become representatives of GPT through their engagement with our guests, customers, site users and communities, and so we aim to build long-term, collaborative partnerships with organisations that share our values and that are willing and capable of helping us achieve our aspirations. We expect our suppliers to share our commitment to sustainability and to be able to demonstrate how they fulfil this commitment. 
Supplier Code of Conduct (SCOC)
GPT's Supplier Code of Conduct outlines our fundamental expectations of suppliers regarding their activities in the production and delivery of goods and services supplied directly to us. The SCOC aligns with GPT's values, purpose and strategy, as well as internationally recognised standards and appropriate codes of practice, and addresses our expectations regarding people, environment, community, corporate governance and supply chain matters. 
By accepting and abiding by the SCOC, suppliers affirm that they are committed to working with GPT and are aligned to its values, purpose and strategy.
Supplier Tender Pre-qualification Survey
GPT's Supplier Pre-qualification Survey is used to assess large value procurement and the selection of suppliers. Potential suppliers fill out the survey, which has weightings assigned to defined objectives to support ESG integration into our supply chain management strategy. Criteria cover a comprehensive set of ESG objectives aligned to GPT policies, including topics such as climate change and energy, or diversity and inclusion. In filling out the survey, negative score penalties exist for not meeting objectives, such as maintenance of a Workplace Health and Safety management system, in addition to positive score incentives for meeting others, like having a Reconciliation Action Plan, a Modern Slavery Statement or an Environmental Management System. The top 5 suppliers by percentage score on supplier pre-qualification surveys are invited to tender.
Delivering positive outcomes with and through our suppliers
Supporting small business health through invoicing and payment on time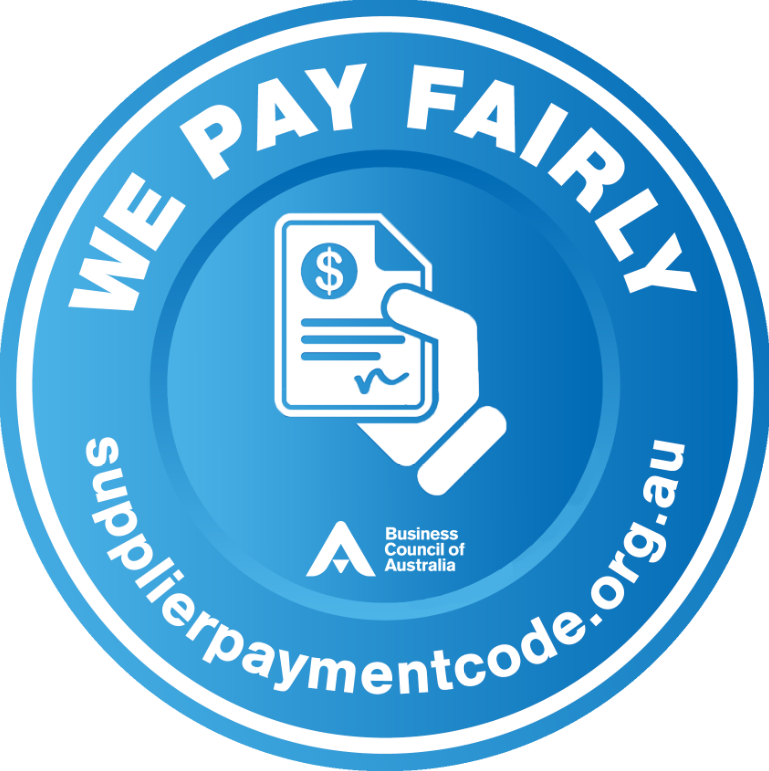 GPT has voluntarily adopted the Australian Supplier Payment Code issued by the Business Council of Australia. The Code encourages payments to small businesses within a timely manner to ensure they remain viable and maintain healthy cashflows and working capital, supporting communities and employees health and well-being. GPT's Paid on Time Target is 80%. Achievement of this target requires receipt of the invoice on time from suppliers, in addition to subsequent payment on time by us. 
GPT is committed to paying our small suppliers within 30 calendar days after the receipt of a valid invoice. All suppliers are sent a supplier registration form including invoice requirements as part of the supplier onboarding process. Suppliers are asked to provide their invoices within 7 days of the issue date of the invoice. Over the 12 months to 31 December 2020, on average 92% of small suppliers were paid within the agreed terms based on the date of receipt of a valid invoice and 70% were paid within agreed terms from the invoice date.
Over the last 3 years, on average, small suppliers (those who supply less than $250,000 worth of goods and services to GPT) were paid as per the following table: 
| | | | |
| --- | --- | --- | --- |
| Payment of Small Suppliers | 2018 | 2019 | 2020 |
| Date of invoice (%) | 72 | 72 | 70 |
| Date of receipt (%) |   | 92 | 92 |
| Late invoices (%) |   | 42 | 42 |
In February 2020, GPT released a new Paid On Time Dashboard to help us focus on supplier payments, improve our Paid On Time track record and work with suppliers to meet our Paid on Time target. The new Paid On Time Dashboard identifies:
• Invoice Due Date verses Payment Date
• On Time Receipt of Invoice from Suppliers Verses Late Receipt
• Invoice Received Date verses Payment Date
• Invoice Creation Date verses Invoice Entry Date
• Late Payments – Top 50 Business Units, Top 50 Suppliers & Top 50 Buyers
• Late Receipt of Invoice – Top 10 Suppliers
The following graph is an example of GPT's Paid On Time Dashboard and includes 2020 results.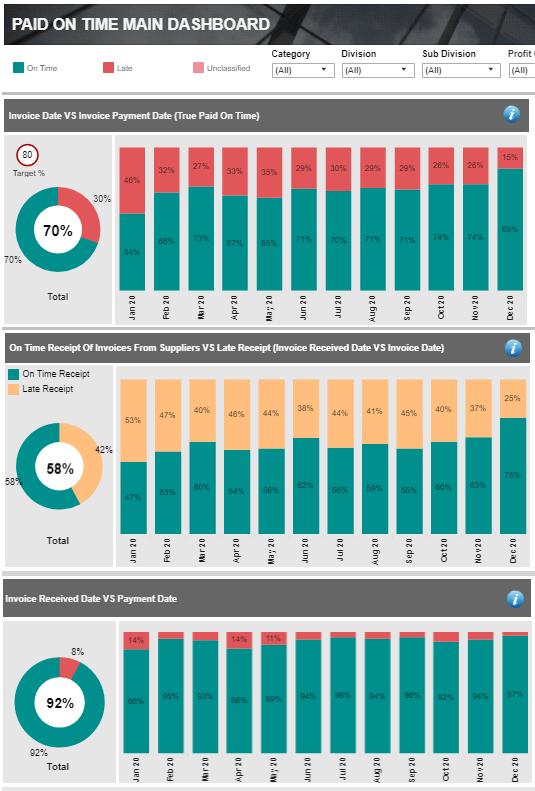 Delivering continuous improvement in environmental management and performance
GPT's Supplier Code of Conduct aligns our suppliers' activities in the production of goods and provision of services with our environmental objectives such as our climate change and resilience objectives. To enable us to understand our suppliers' capability to deliver in alignment with our objectives, we encourage, engage and track the implementation and maintenance of Environmental Management Systems by suppliers, in particular those suppliers that have a direct impact on GPT's asset environmental performance, such as cleaners. We additionally encourage suppliers to have an EMS aligned and certified with a recognised standard, such as ISO14001:2015.
We track this KPI and our improvement target through confirmation of ISO14001 at tender pre-qualification stage for major services and ongoing through contractor management and engagement forums, such as our Supplier Survey Assessment. In 2020 our performance included:
All tender bidders for major property services contracts from 2018 through 2020 indicated they held ISO14001 certified Environmental Management Systems in their tender pre-qualification; and,

60% of respondents to the GPT Supplier Survey Assessment (sent to all Tier 1 suppliers) had an Environmental Management System.
Delivering continued action and performance on First Nations Reconciliation
GPT's Supplier Code of Conduct also aligns our suppliers' support and action on social objectives such as First Nations Reconciliation. As part of our social sustainability objectives to increase supplier action on reconciliation and our own Reconciliation Action Plan (RAP) targets, we track the creation of Reconciliation Action Plans by suppliers, the endorsement of these plans by Reconciliation Australia and publication of the plans and performance. We also have a target for all of our top 10 (by spend) Specialist Services Suppliers to have RAPs.
We track this KPI and targets through confirmations at tender pre-qualification stage for major services and ongoing through contract management and engagement forums, such as our Supplier Survey Assessment. In 2020 our performance included:
9 of our top 10 (by spend) Specialist Services Suppliers have Reconciliation Action Plans; and,

>35% of respondents to the GPT Supplier Survey Assessment (sent to all Tier 1 suppliers) and our top 10 Specialist Services Suppliers had a Reconciliation Action Plans either in draft or endorsed.
We also have formalised First Nations employment initiatives and/or procurement strategies, and other relevant activities. Potential suppliers that are able to demonstrate reconciliation commitments are then recognised as favourable for this. We are pleased that eight of our top ten suppliers (by spend) have formal Reconciliation Action Plans in place. 
Assessing and addressing modern slavery risk
GPT released its second Modern Slavery Statement in December 2021, which sets out the actions we have taken during 2020-2021 and propose to take in the future to assess and address modern slavery risks in our business. As one of Australia's largest diversified property groups, we are well placed to influence and effect change with our suppliers, partners and other stakeholders.
We have established a comprehensive foundation to delve deeper into this issue, notably through our association with the Cleaning Accountability Framework and our modern slavery supplier audit program, aimed at uncovering and addressing modern slavery concerns.
Respecting the human rights of everyone that we engage with, directly and indirectly, is an important part of GPT's responsibility to uphold high ethical standards in our business practices and decision-making.