GPTs vision to deliver continued value to customers and shareholders is enhanced through achieving superior supply chain management outcomes. We ensure that our policies, including sustainability policies, remain at the heart of our procurement decisions as we continue to maintain our leading position in sustainable real estate.
We deliver strategic and innovative supply solutions and provide guidance to our stakeholders which brings ongoing value, efficiency and compliance to  GPT's procurement activities.
GPTs supplier policy can be found here.
Our Strategic Priorities
GPTs vision of supporting our suppliers, customers and the communities we serve is enhanced by focusing on the following priorities:
Effective Procurement Solutions
To attract and retain professional and capable people to deliver efficient procurement services.
Customer centric procurement support
To provide a customer-centric focus, listening and adapting to the GPT's service delivery needs while maintaining policy compliance.
Value, innovation & social responsibility in contracts
To provide the best value supply solutions that deliver savings, bring innovation to GPT services and support the Community. 
Strong & transparent governance framework
To establish a clear governance framework that provides direction and oversight to the GPT's procurement activities and performance. 
Category management framework
To provide a category management framework that supports business alignment, decision making and procurement objectives.
Dynamic procurement technology solutions
To specify technology solutions that simplify procurement activity, support compliance and reduce red tape. 
GPT operates within an environment of business values highlighted below, to ensure ethical business practice and appropriate commercial outcomes.
Probity:
Managing the integrity of process according to procurement policy
Acting impartially and fairly
Being accountable for all our decisions and actions.
Innovation:
Daring to think differently to seek new and better ways of doing things
Overcoming obstacles creatively to achieve our customer's objectives and optimise value.
Transparency:
Conducting all activities openly with clear audit trails
Documenting all tasks and discussions
Making available all information for collaboration and collective decision making.
Flexibility:
Being ready to vary the objective, process or procedures (within probity) to achieve;
Maximise customer / stakeholder outcomes.
Optimise local decision making solutions.
Equity:
Providing equal benefit and service across the GPT regardless of size or location
Ensuring the supply market has equal access to the GPT's business.
Professionalism:
Dealing with customers, suppliers and other stakeholders respectfully, courteously, honestly, punctually and responsibly
Applying research, analysis, experience, expertise and procurement leadership
Delivering work outputs that are accurate, timely and presentable
Taking accountability for our work and our decisions
Adding value to the outcome for every activity we undertake.
Working with our Suppliers Sustainably
Supplier Code of Conduct (SCOC)
The SCOC outlines GPT's fundamental expectations of its suppliers regarding their activities in the production and delivery of goods and services supplied directly to GPT. The SCOC supports GPT's values, purpose and strategy, as well as internationally recognised standards and appropriate codes of practice. 
By accepting and abiding by this SCOC, suppliers affirm that they are committed to working with GPT and are aligned to its values, purpose and strategy.
The SCOC covers GPT's expectations from its suppliers with regard to the Suppliers People, Environment, Community, Corporate Governance and Supply Chain. 
Australian Supplier Payment Code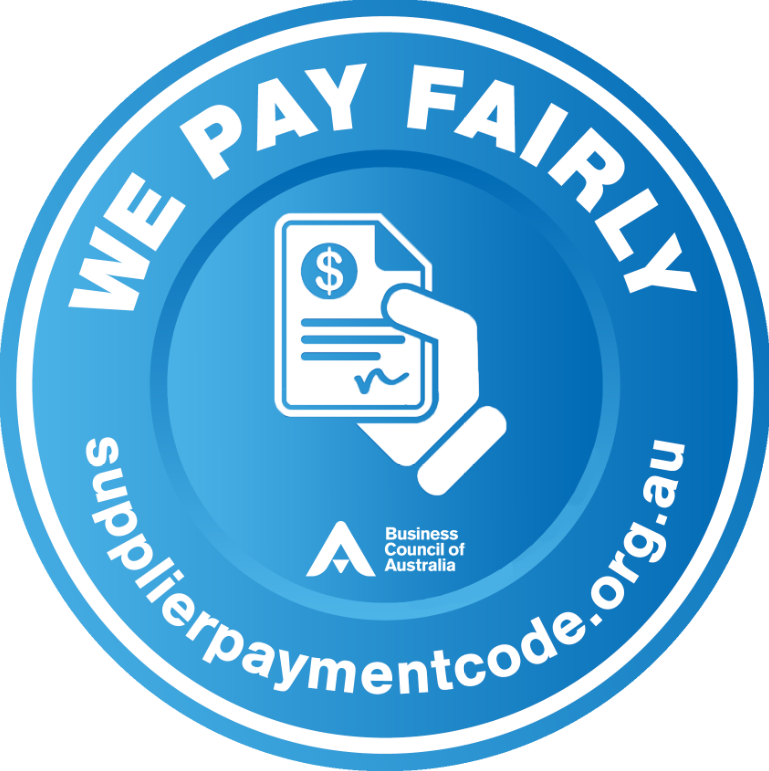 GPT voluntarily adopted the Australian Supplier Payment Code issued by the Business Council of Australia. This code encourages payments to small businesses within a timely manner to ensure they remain viable and maintain healthy cashflows and working capital.
We are committed to paying our small suppliers within 30 days calendar days after the receipt of a valid invoice. All suppliers are sent a supplier registration form including invoice requirements as part of the supplier onboarding process. Suppliers are asked to provide their invoices within 7 days of the issue date of the invoice. 
Previous track record
Over the last 12 months to 31 December 2020 on average, 92% of small suppliers were paid within the agreed terms based on the date of receipt of a valid invoice and 70% were paid within agreed terms from the invoice date.
Over the last 3 years, on average, small suppliers (those who supply less than $250,000 worth of goods and services to GPT) were paid as per the following table: 
| | | | |
| --- | --- | --- | --- |
| Payment of Small Suppliers | 2018 | 2019 | 2020 |
| Date of invoice (%) | 72 | 72 | 70 |
| Date of receipt (%) |   | 92 | 92 |
| Late invoices (%) |   | 42 | 42 |
In February 2020, GPT released a new Paid On Time Dashboard to help us focus on supplier payments, improve our Paid On Time track record and work with suppliers to meet our Paid on Time target of 80%.
The new Paid On Time Dashboard is able to identify the following criteria:
• Invoice Due Date verses Payment Date
• On Time Receipt of Invoice from Suppliers Verses Late Receipt
• Invoice Received Date verses Payment Date
• Invoice Creation Date verses Invoice Entry Date
• Late Payments – Top 50 Business Units, Top 50 Suppliers & Top 50 Buyers
• Late Receipt of Invoice – Top 10 Suppliers
The following graph is an example of the new Paid On Time Dashboard and the 2020 results.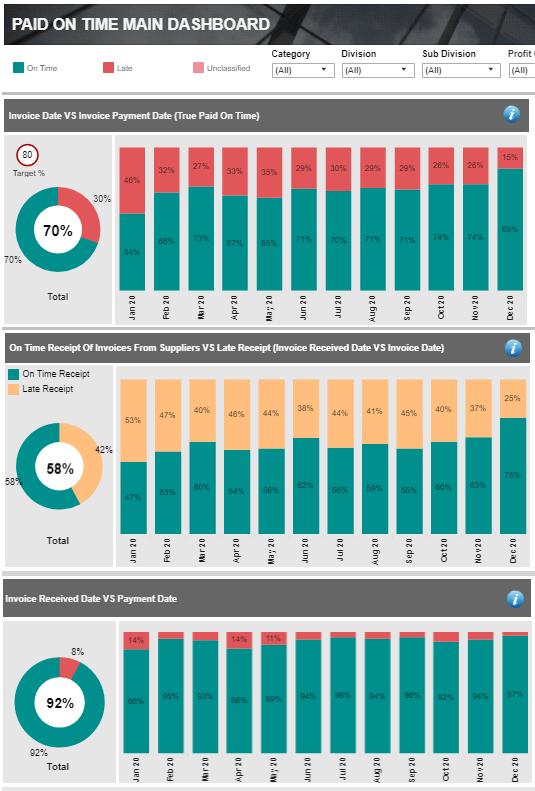 Environmental Management
GPT encourages our significant suppliers - who make up 74% of our total spend - to develop and maintain environmental management systems. In 2019 and 2020 GPT began to measure the number of its significant suppliers with an EMS, along with the alignment of management systems to industry standards and any environmental targets they set, such as carbon neutrality. Of the respondents to our 2019/20 significant supplier survey, over 75% maintain an environmental management system, with the majority of those aligned or accredited to ISO14001:2015. Suppliers who can demonstrate environmental management are recognised favourably in our supplier tender questionnaire. 
First Nations Reconciliation
We understand that we have a role to play and use our influence with our stakeholders to support the reconciliation movement in Australia. We have adapted our supplier tender questionnaire to include an opportunity for companies to share details about their reconciliation actions, formalised First Nations employment initiatives and/or procurement strategies, and other relevant activities. Potential suppliers that are able to demonstrate reconciliation commitments are then recognised as favourable for this. We are pleased that eight of our top ten suppliers (by spend) have formal Reconciliation Action Plans in place. 
Modern Slavery
GPT released an inaugural Modern Slavery Statement in December 2020 as a key first step in assessing and addressing modern slavery risk in our supply chain. It describes our policies, procedures and actions taken and our commitments to assess and address these risks. The Statement is an important part of our commitment to fostering a corporate environment that adheres to high standards of ethical and professional behaviour.