Our commitment to use materials in a closed loop, circular way is based on the recognition that waste is being generated and resources are being consumed at unsustainable rates. Our approach is to eliminate waste where possible, choose the right materials for our projects, and recover (or reprocess) everything in our control to its highest value.
2020 Performance Highlights
In 2020:
The GPT Office Portfolio delivered a 3.0 Star Average NABERS Waste rating (68 per cent rated).
1,400 tonnes of organic materials were recycled in a closed loop through initiatives like our Organics Bus.
Over 70 per cent of GPT-managed assets (by area) were serviced by GECA Waste Collection Services standard.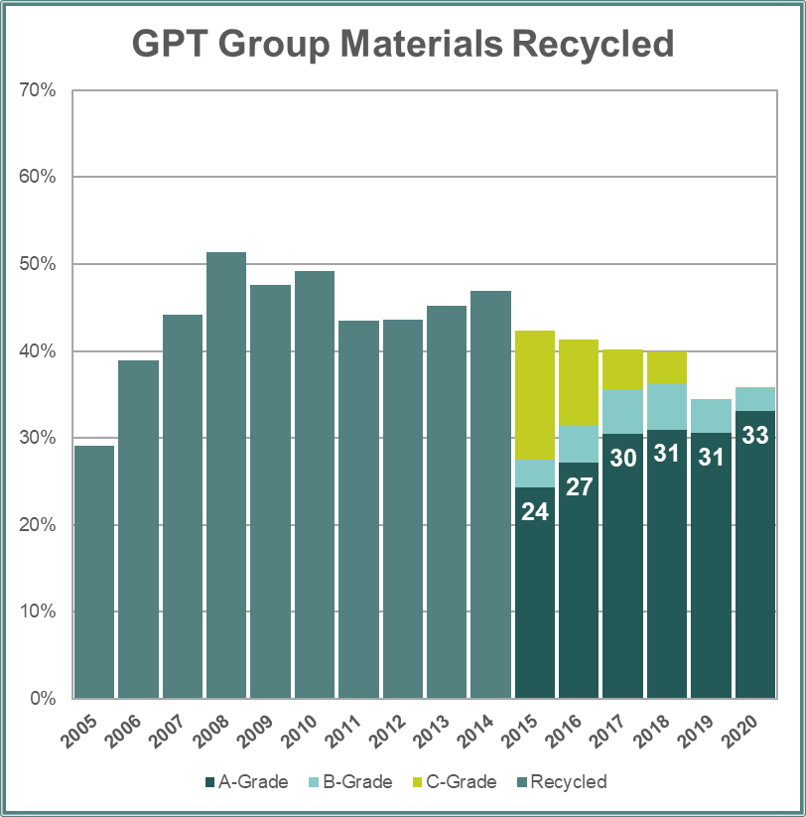 Performance Data
2005
Baseline
2019
Actual
2020
Target
2020
Actual
2021
Target
Materials Recovery
Quantified, increased and maintained closed loop recovery
 since 2015
Closed Loop Recovery (A-Grade)
 -- 
30.6
31.0
33.0 ✔
34.5
 %
Diversion from landfill recycling (A+B+C Grade)
29.0
34.3
35.8   
 %
Materials and Waste Management
Total Materials 
24,087
29,179
19,025
 tonnes
Total Material Recycled
7,017
10,006
6,813
 tonnes
  A-Grade recovery
--
8,934
6,287
 tonnes
  B-Grade recovery
--
1,051
517
 tonnes
  C-Grade recovery
--
21
10
 tonnes
Total Material sent to Landfill
17,070
19,173
12,212
 tonnes
Hazardous Material
--
 -- 
 -- 
 tonnes
The GPT Environment Data Pack details the full performance of our portfolio, funds and assets since 2005, including building ratings and attributes.
Background and Policy
We seek to minimise waste, leveraging the full life cycle of materials and avoiding the overconsumption of raw materials and resources. Ultimately, we aim to achieve closed loop resource use, meaning waste materials are recovered in a way that enables them to re-enter the same production cycles and used for the same purpose. We believe we can reduce the impacts of waste generation and resource depletion, in particular in the management of occupants' waste. Waste sent to landfill is also the principal source of Scope 3 emissions from our building operations, so our approach to waste management also benefits our climate change commitments.
Managing waste and resources responsibly enables:
reduced waste costs;
preparedness for emerging regulations and increasing community expectations; and
contributing towards a world that uses resources at rates that can be replenished and disposes of waste at rates that can be re-absorbed without harm.
GPT's Materials and Waste Management Policy contains our complete policy background and commitments.
Our methods for delivering real outcomes in waste management
Outcomes-based reporting
Since 2015, we have applied a first-principles, science-based approach to materials recovery and waste management, focused on reducing waste within our control and maximising the quantity and quality of recycling in pursuit of our closed loop objective. The quality of recycling, or the retention of value in the recycling process, needs to be considered when understanding if a closed loop approach is being achieved.
We have invested significantly in improving the quality and integrity of our data to overcome a key challenge faced by our industry, which is to understand how materials are actually being recovered and whether that meets our closed loop objective. Our work has led us to engage with our supply chain to understand the processing outcomes of materials that leave our buildings, realign our contracts to incentivise balancing efficiency and recovery without compromising safety, and reformat our reporting to highlight and drive further performance in line with our closed loop objective. Taking the rubbish out of recycling data is a discussion paper about our outcomes-based reporting approach to waste management.
Broadly, this GPT initiative is described as outcomes-based reporting where recycling quantity and quality are reported. The quality is measured as different grades for the recovery outcomes where: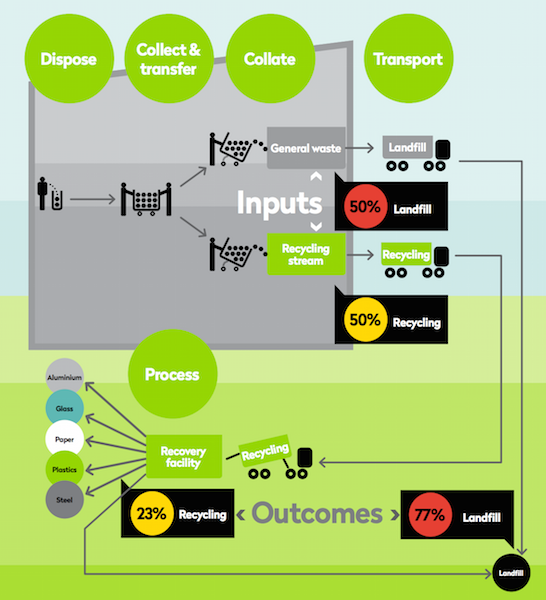 A-grade recovery meets the closed loop objective and includes recovery processes that can occur repeatedly, for example fibre and metals recovery, as well as food waste processing to a standard that produces a product with no end-use restrictions. We set targets for closed loop recovery,  but not for diversion from landfill (B- or C-grade recovery). To remain consistent with industry, we will continue to report lower-grade outcomes, but for targeting purposes, we will remain consistent with our objective to recover 98% of materials leaving our buildings in a closed loop manner.
B-grade recovery is applied to processes described as down-cycling. An example of downcycling is the use of mixed food-grade plastics to produce packaging, non-food grade plastic. This does not meet the GPT closed loop objective but avoids landfill disposal. B-grade recovery is for downcycling items to lower value commodities.
C-grade recovery is for processes that have a one-off end of life re-use that does not meet GPT's closed loop objective; for example, Organic growth medium (OGM) from a mixed source waste that is produced in an alternate waste treatment facility or mine site rehabilitation. It may only be allowed to apply the product once.
This work has influenced the property sector as a foundation to the release of the Better Buildings Partnership's Operational Waste Guidelines and Stripout Waste Guidelines, the renewal of the NABERS Waste tool and the introduction of its Material Recovery Score and the release of the GECA Waste Collection Services standard, which certifies waste contractors that provide leading practice services with strong data integrity.
Operational Waste
With our data integrity and monitoring capability, we maintain contracts to collect and recover materials best placed to meet our objectives, such as fibre from paper and cardboard and organics.

In 2019 we rolled out a dedicated organics diversion to a local commercial composting facility at Charlestown Square, diverting unavoidable food waste for processing back to compost.

We maintain partnerships with programs such as OzHarvest to support local families needing food relief, which also averts food waste ending up in landfill. 
We work in partnership with our cleaning and waste contractors to continuously monitor and improve the source separation, recycling streams and tenant engagement programs to maximise diversion opportunities. 
We benchmark our office towers against similar buildings using NABERS Waste and use this information to identify improvement opportunities for better source separation and recovery. 
Hazardous Waste
We maintain a rigorous site management system designed to avoid generating hazardous waste. Asbestos registers are maintained at each site with well-developed management protocols.
Site Fit Out Guides and House Rules control the use of chemicals on site by tenants and contractors.
Development Waste
In general, GPT does not have operational control of waste from development sites; however, GPT does influence how contractors and suppliers manage waste through its Development Guidelines and Plan that include requirements for material selection and waste management, including

requirements on our contractors to maintain waste management plans as part of project design and implementation,
project-specific separation, reuse, recycling and diversion targets in line with Green Star standards, and
education, engagement and other tools such as incentives for encouraging revaluing and recycling materials that could otherwise go to landfill. 

In example:

Our development at 4 Murray Rose in Sydney Olympic Park, completed in 2018, required our contractors to divert more than 90% of construction waste from landfill and was awarded the relevant credit in its Green Star rating.
Our current development contract at 32 Smith Street in Parramatta requires greater than 90% of materials to be diverted from landfill throughout the development process.
Challenges and Outlook
Optimising material recovery quantity and quality depends heavily on the waste management facilities available in the proximity of each asset and tenant processes and behaviours. With recent macroeconomic changes to the waste industry, including policy changes to the import of materials for recovery in China and Queensland, GPT's focus on a full understanding of the outcome of materials leaving its buildings prepares us to continue to seek out closed loop recovery solutions and facilities; whilst we are impacted by the broader availability of facilities in the states in which we operate, we have analysed and are working with waste contractors and facilities to ensure the continued acceptance and recovery of material from our buildings.As GPT has been the leading adopter of outcomes-based reporting, working with waste contractors to change their processes and to improve their understanding of GPT's systems and objectives, is resulting in a growing capacity to find solutions for the upstream tenant processes and behaviours as well as the downstream processing facilities to achieve the best outcomes.
Our focus on education and engagement is resulting in improved tenant processes and behaviours and best practice waste treatment processes are becoming increasingly commercially viable once the product they receive has lower contamination and consistent tonnages. Waste composition analysis has shown that it is possible to achieve the 98% closed-loop recovery objective and aforementioned positive feedback loop will provide the pathway forward in the coming years to move towards the target.