GPT's vision is to be the most respected property company in Australia in the eyes of our investors, people, customers and communities.

To identify new opportunities to enhance the customer experience offered by our Retail, Office and Industrial assets, GPT undertakes an extensive annual research program that collects feedback from our customer and community stakeholders.
Policy and Approach
GPT's Customer Engagement Policy sets out our commitments and approach to engaging our customers and building strong and mutually beneficial relationships.
Our customers include tenants and occupiers of our buildings as well as shoppers visiting our centres. Our engagement with each of these groups is based on the following four key principles:
Listen to our customers so that we can understand and act on their needs
Share our knowledge with our customers so they can benefit from our insights
Inform our customers and provide them with up-to-date information to help them in their business decisions
Act on our customer requests and feedback to ensure we provide the best service to meet their needs.
GPT owns and actively manages a diversified portfolio of high quality Australian real estate, and has a strong track record of managing properties that deliver great customer experiences and performance outcomes. We support our customers in their strategic and tactical decision-making and share our insights to enhance their success.
Our performance and ongoing success depends on the success of our customers, so our annual research program equips GPT with a better understanding of our customers' needs and how effectively they feel GPT is meeting them.
Performance and targets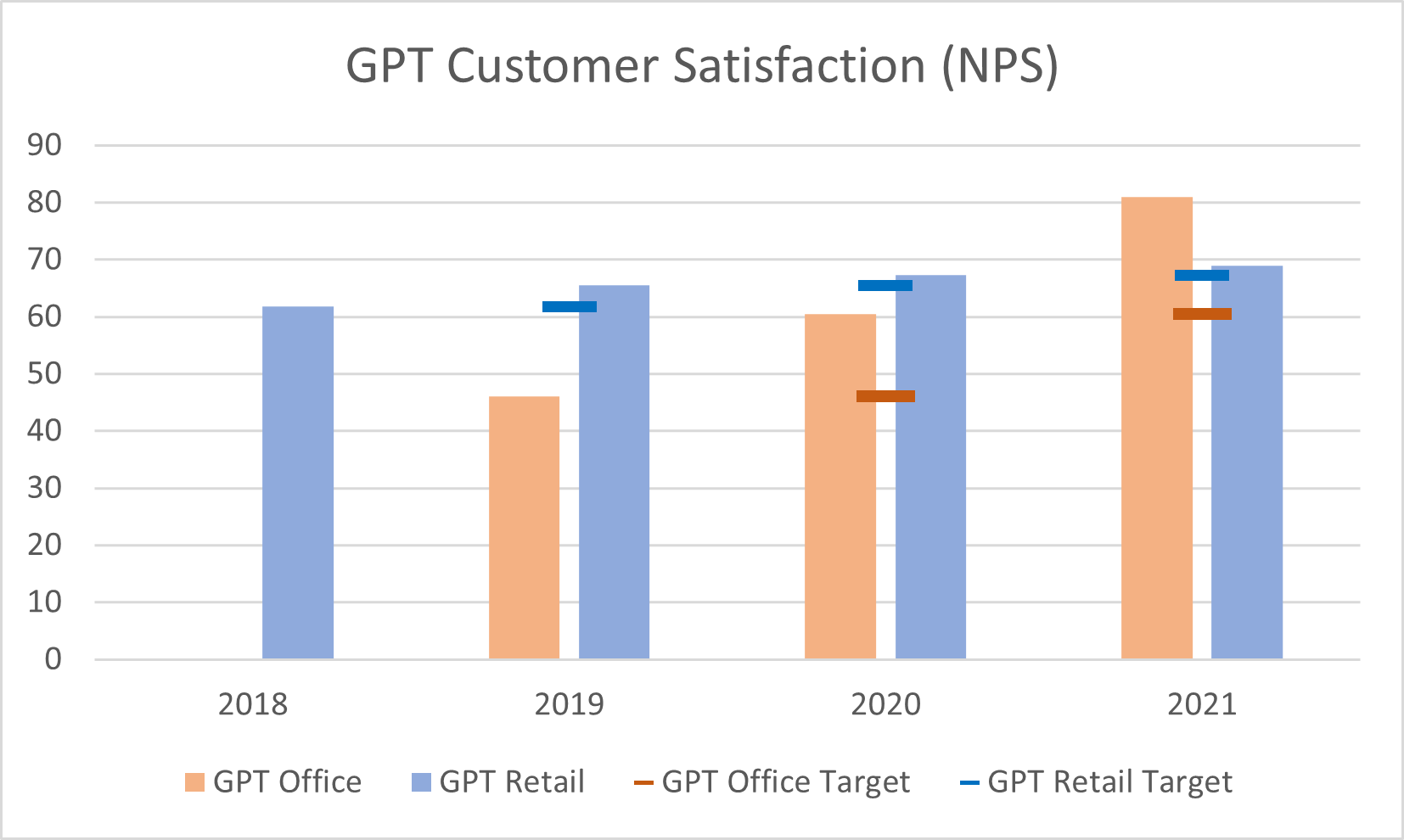 We track our performance through tenant satisfaction surveys and identify and implement business support and sustainability initiatives to help meet their needs as we strive to provide high quality, sector leading buildings and experiences across each of our portfolios.
GPT uses Net Promoter Score (NPS) surveys and calculations to enable us to understand customer loyalty and experience across the office and retail portfolios. NPS enables us to understand our promoters, passives and detractors and, combined with qualitative information, improve our support of our customers over time.
GPT aims to improve our score each year in each portfolio, with the most recent years' results provided in the graph. Note that the office portfolio used a metric of 'percentage of customers satisifed' until 2020 and thus is not included in this graph prior to 2019.
Supporting our customers' success
We provide our tenants with a range of initiatives designed to provide valuable information, insights and support to help them to be successful.
In our Retail business, we work with our tenants to find tailored retail solutions that assist in driving their business performance. Based on individual circumstances, we facilitate relationships with external consultants who provide expertise in different aspects of business and provide customised marketing support as part of our retailer engagement strategy. Specific business support programs include:
Critical Retail Barometer
Identifying areas of potential assistance for retailers in financial difficulties, the Critical Retail Barometer draws on the skills and experience of the GPT team and offers suggestions for improving performance.
Retail seminars
Designed to provide our retailers with industry trends and market information that can be applied to their business. Guest speakers present topics which cover consumer insights, economic analysis, digital trends and much more.
Sustainability support
Office portfolio property management team meet with tenants to present information on how the building is performing from an energy, greenhouse, water and waste perspective. The meetings enable discussion and collaboration on improving performance, including tenant actions where necessary.
Newsletters providing information about sustainability information, best practices, and performance are frequently shared to occupants and tenants.
Minimum standards for tenant fit outs are managed through our 'Fit Out Guides' and the Ecological Footprint calculator for guidance of retail tenants.
Assists our Retail tenants to measure and reduce their impact on the environment by devising fit outs to reduce their eco-footprint.