Our performance
GPT's Corporate Community Investment Protocol aims to capture all material community-related investments made by GPT including:
Time volunteered by GPT employees;

Direct community investment;

Giving through the GPT Foundation;

In-kind giving; and

Monetary contributions through donations and sponsorships.
GPT invests significantly in community-valued initiatives and facilities and over the last 12 months this has remained a priority, particularly in providing premium public realm amenities and engagement initiatives. We also continue to invest significantly across the year in diversity and inclusion initiatives, and during 2020 maintained our financial contributions to our GPT Foundation partners.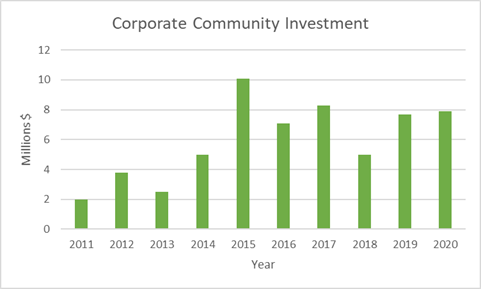 Corporate Community Investment Reporting - 2020 Results
In 2020, $7.87 million was invested in our communities as detailed below. This exceeded our target of $5 million of investment for the 12 months.
Contribution

2020

2019

Explanation for change in spend

Examples

Direct community investment

$5.86m

$5.27m

This reflects continued investment in public amenities and spaces such as common areas; and community events

 

Playground and community gardens

 

Investment in End of trip facilities

 

Family entertainment and community events

 

Sponsorship

$0.05m

$0.05m

Sponsorship was maintained during 2020

Sponsorships at asset level

 

GPT Foundation

$0.45m

$0.59m

GPT maintained is formal partnership agreements with its non-profit partners during 2020, and ad hoc support was limited due to COVID-19

This includes investment in and donations to our seven Foundation community partners, and matching of workplace giving

Volunteering time

$0.03m

$0.23m

Volunteering was limited in 2020 due to COVID-19 and instead GPT hosted an engagement campaign called Acts of Kindness empowering employees to support local initiatives through fundraising campaigns and events

GPT employees volunteering throughout the year and on the annual Community Day

In kind provision of charity and community space

$0.56m

$0.48m

GPT continues to provide space to non-profits and community bookings, including tenancies and casual mall leasing opportunities

Providing space in shopping centres or office building foyers for charity and community events

Management support

$0.86m

$1.01m

Management support and engagement on activities were limited to online due to COVID-19, which saw a reduction of contributions during 2020

GPT employees working on programs, activities and systems to deliver community outcomes

Leverage

$0.05m

$0.02m

As a result of limited volunteering opportunities, GPT's employee giving campaigns increased during 2020

Contributions to community organisations facilitated by GPT activities
Employee giving
The percentage of staff volunteering in 2020 dropped to 9.5% as a result of the challenges and health precautions during the COVID-19 pandemic.  This did not meet GPT's target of 75%.  GPT employees continued to contribute to non-profits and the GPT Foundation through a range of campaigns and initiatives, including GPT's Acts of Kindness campaign supporting fundraising and awareness raising initiatives for local community partners and non-profits.  In 2020, this saw 81% of employees engage with the GPT Foundation which was an increase on 2019 (80.3%).