Our commitment to reduce energy consumption and greenhouse gas emissions is guided by the scientific imperative of avoiding dangerous climate change by limiting global warming to below 2 degrees Celsius. We consider our actions to eliminate emissions to be the most important contribution we can make to climate change mitigation, and it makes business sense through reduced energy bills, meeting tenant and investor expectations and greater resilience in a low-carbon future.

2020 Performance Highlights
In 2020:
The GPT Wholesale Office Fund achieved its carbon neutral target, with all operating buildings independently certified by NABERS and Climate Active for Buildings, in alignment with the International Greenhouse Gas Protocol.
We set a new Group carbon neutral 2024 target date for all wholly-owned and managed assets, bringing forward our previous target by six years.
We commenced climate hazard identification and adaptation planning for assets in our portfolio.
We reached 4.6 MW of solar photovoltaic arrays installed across the portfolio at the end of 2020.
The Group's Office portfolio delivered a a 5.8 Star Weighted Average NABERS Energy Rating (with GreenPower), a 4.0 Star Average NABERS Water Rating and a 3.0 Star Average NABERS Waste Rating (68 per cent rated) for the Group's Office portfolio.
The Group's Retail portfolio delivered a 4.4 Star Weighted Average NABERS Energy Rating (without GreenPower) for the Group's Retail portfolio. 
Performance Data
2005
Baseline
2019
Actual
2020
Target
2020
Actual
2021
Target
Energy
54% energy intensity improvement from 2005
$249.5m in energy costs avoided since 2005
Energy Intensity
571
314
308
260 ✔
300
 MJ/m2
Total Energy
999,560
635,322
505,676
 GJ
  Renewable Energy
--
192,462
192,697
 GJ
  Non-renewable Energy
999,560
442,860
312,979
 GJ
Emissions
60% emissions intensity improvement from 2005
1.8m tonnes of CO2-e avoided since 2005
Emissions Intensity
136
48
49
34 ✔
32
 kg CO2-e/m2
Total Net Emissions (Scope 1 & 2)*
238,750
97,027
66,988
 t CO2-e
   Scope 1 Emissions
7,578
10,321
6,943
 t CO2-e
   Scope 2 Emissions (market-based)
231,172
90,817
61,784
 t CO2-e
   Scope 2 Emissions (location-based)
231,172
125,110
95,489
 t CO2-e
Scope 3 Emissions
NR
39,312
24,287
 t CO2-e
Carbon offsets
0
-15,507
-13,224
 t CO2-e
Office portfolio NABERS (w/out GreenPower)
--
4.9
4.5
5.1 ✔
5.0
 Star
Climate Active corporate operations
--
carbon neutral
maintain
carbon     neutral ✔
maintain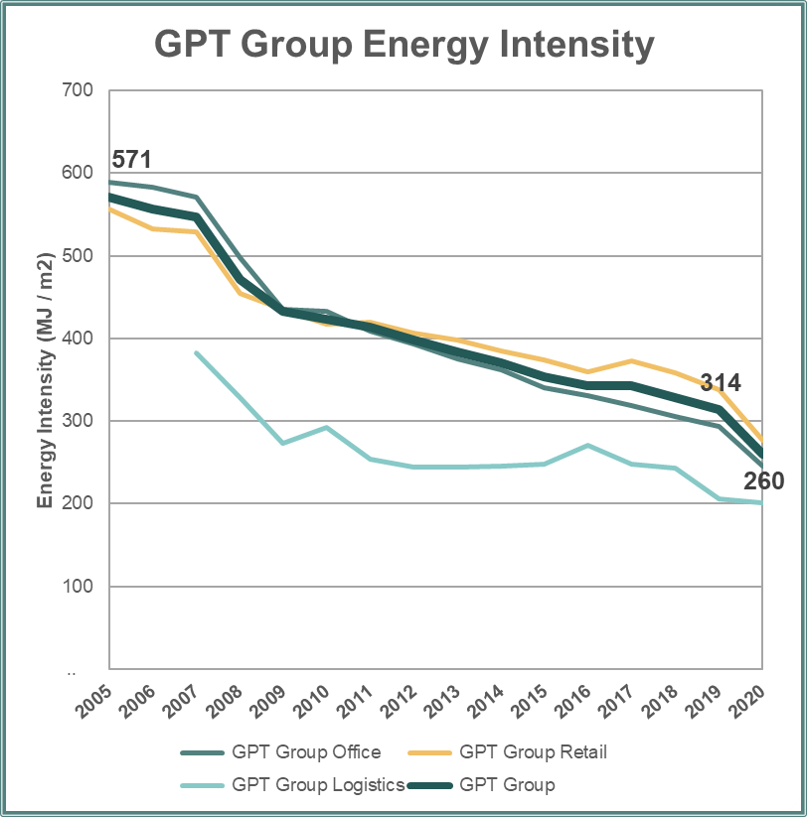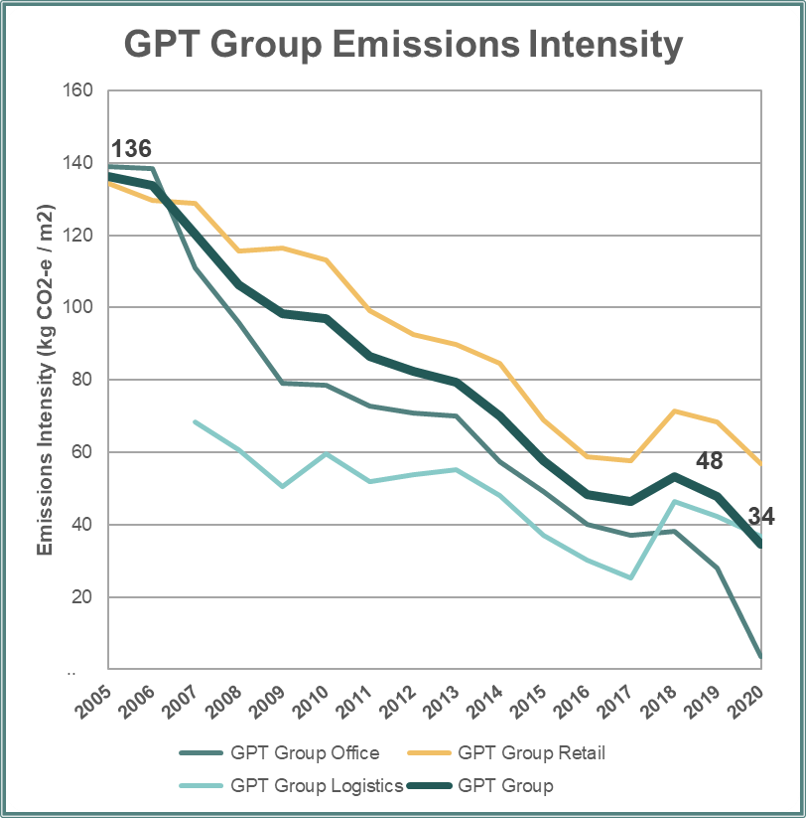 *Net emissions are the sum of Scope 1 plus Scope 2 market-based emissions minus a portion of associated carbon offsets.
The GPT Environment Data Pack details the full performance of our portfolio, funds and assets since 2005, including building ratings and attributes, and our Climate Disclosure Statement discloses climate risk, strategy and response in alignment with the recommendations of the Task Force on Climate-related Financial Disclosures.
Background and Policy
GPT recognises that greenhouse gas (GHG) emissions globally are at unsustainable levels and the science indicates urgent response is necessary to mitigate and adapt to the impacts of climate change.
GPT's first principles approach and commitments to managing the greenhouse gas emissions and energy consumption from our buildings is primarily guided by the scientific imperative of avoiding dangerous climate change. Our contribution to this is through the elimination of emissions that contribute to climate change. We welcome the increasing number of governments and businesses also adopting zero carbon targets following the Paris Climate Agreement, which noted the objective of a decarbonised global economy by 2050.
Our carbon neutral commitment is delivered by running efficient buildings on renewable power and offsetting the emissions that we cannot eliminate through emissions reduction and reforestation projects. Independent industry standards validate our performacne and progress towards our carbon neutral goals for our investors, tenants and stakeholders. We were the first organisation to use a unified certification pathway to ensure that our buildings meet all relevant Australian carbon neutral standards with certification under both NABERS and Climate Active for Buildings, and in alignment with the International Greenhouse Gas Protocol. 
We also work actively with our supply chain, including our critical suppliers as well as our customers, to influence their practices. Where possible, we share objectives and targets with our external partners. 
We believe that focusing our efforts on operating our assets efficiently will enable us to not only play our part in the mitigation of climate change, but also:
Increase and support the resilience of our assets, the grid and the community;
Minimise the impact of rising energy prices on our tenants and investors; and
Meet and exceed regulatory and tenant expectations and requirements.
In managing our asset portfolio we also monitor and assess adaptation risks and opportunities arising from the impact of climate change on our assets and take account of these in our investment decisions. 
GPT participates indirectly in climate change public policy development through membership and participation in a range of industry organisations including the Property Council of Australia, Green Building Council of Australia and the City of Sydney Better Building Partnership.
GPT's full Climate Change and Energy Policy is publicly available and contains the policy background and commitments.
Our methods for delivering positive climate and energy outcomes
We deliver world-leading climate and energy outcomes through our ISO14001 certifiable Environmental Management System, which brings together our policies and procedures, strategies and plans, and platforms and people to enable us to track our performance and progress in a systematic way.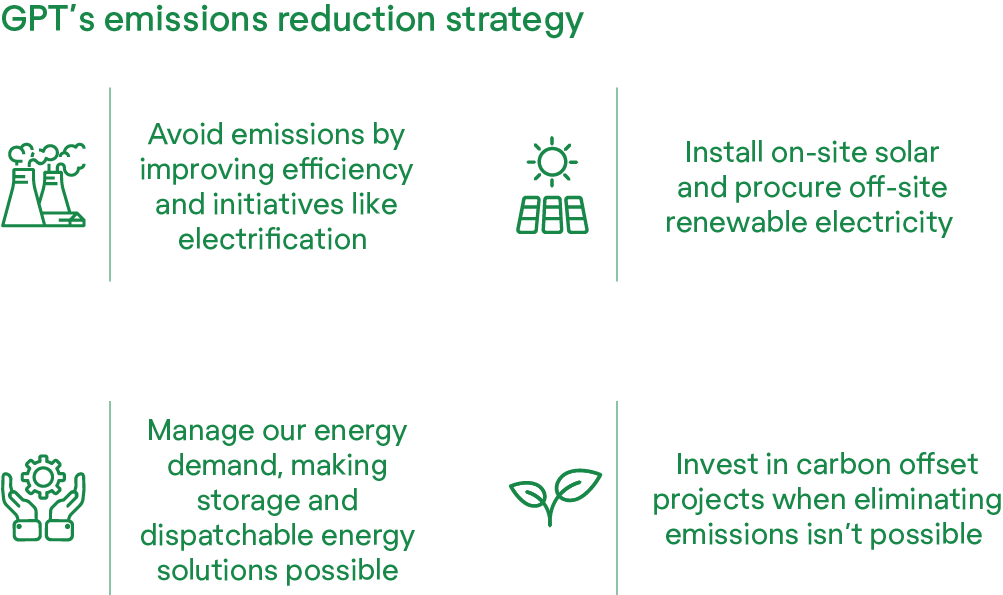 Within each asset and across the portfolio we implement a number of initiatives to further our capability to deliver positive outcomes. Some examples of key initiatives include: 
Targets, monitoring and metering
Targets are set annually for each asset, taking account of improvement plans and performance, and we monitor and report this internally through the year;
Management KPIs and incentives are aligned with environmental performance targets;
Site teams are provided with training to micro-monitor performance and calibrate systems for optimal efficiency;
Metering systems are installed and systems continuously commissioned to ensure systems maintain efficiency;
Sub-metering enables allocation of consumption costs on a user-pays basis at an increasing number of sites.
Energy Efficiency
Use of energy efficient appliances in new developments;
Efficiency upgrades at existing sites, where viable, including lighting replacements, installation of separate switches, installation of PE cells, and use of sensors;

For example: During 2015 and 2016, a portfolio-wide lighting analysis was conducted and subsequent LED lighting was installed across GPT's retail portfolio, estimated to save over $900,000 every year.

Replacement with more efficient appliances as part of normal maintenance and capital programs, including making use of variable speed drives for escalators and higher efficiency chillers;

For example: GPT's lifecycle assessment process for capital expenditure in managed assets prioritises environmental performance as one of 3 key deliverables, focusing employees and consultants on finding the optimal solution for ongoing performance.

Changing the start/stop time on the mechanical plant (especially air-conditioning plant) to best match occupant needs;
Use of sub-metering and analytics systems to monitor, profile and detect equipment inefficiencies.
Passive and on-site energy
Use of passive forms of energy and natural ventilation where possible;

For example, at Rouse Hill Town Centre the Building Management System adjusts shades to optimally use the sun for warmth and lighting.

Installation of solar PV systems and a rolling assessment of business case analysis for existing assets. Find out where we have installed and operate solar pv in the GPT Environment Data Pack;
Implementation of on-site energy production through co- or tri-generation technology, which provides electricity as well as heating and cooling (for tri-generation) efficiencies. Find out where we have generate energy on-site through co- or tri-generation in the GPT Environment Data Pack.
Renewable energy procurement
Purchase of government-accredited GreenPower, which is additional to any grid renewables;
From 2020, GPT is purchasing 100% renewable electricity for all GWOF assets.
Tenant Support
Training for Investment Managers in environmental outcomes and on-going communication with tenants.
Green leases, fitout guides and minimum standards to reduce tenant GHG emissions.
Site tours to renewable energy plants to aid tenant education and awareness on how 'green' electricity is produced.
Read about our case studies for more information on how GPT has achieved energy and emissions reductions.
Committed to Operating as a Carbon Neutral Organisation

For 10 years GPT has maintained its commitment to provide carbon neutral workplaces for all GPT staff and customers of GPT's Space & Co flexible workspace offering by improving the efficiency of its workspaces, utilising renewable green power and purchasing offsets for the remaining emissions. To achieve carbon neutrality GPT has:
Improved energy efficiency
Reduced paper consumption
Introduced video conferencing between major centres resulting in a reduction in travel
Purchased zero or low carbon products, especially Green Power
Used certified offsets as a last resort to compensate for unavoidable emissions.
A summary table of operational emissions associated with GPT employees performing their roles, operating tenancies occupied by GPT employees and emissions associated with the operation of our Space & Co tenancies is prepared each year. The full history of our disclosures for our Climate Active carbon neutral certifications are kept on our Assurance page. 
Climate Resilience & Adaptation
In managing our portfolio, GPT monitors and assesses physical and transitional risks arising from the impact of climate change. These risks are considered in GPT's investment and portfolio management decisions, as well as decisions to upgrade buildings in anticipation of a low carbon future. 
Climate change is a global challenge and its consequences are already starting to manifest, with the world seeing an increase in the frequency and intensity of extreme weather events. GPT recognises that changes to the environment can influence the operation of our business and our assets, and we are committed to identifying and managing the foreseeable climate-related risks and opportunities likely to impact on our business and the property sector. 
In February 2020, we released our inaugural Climate Disclosure Statement, providing further information about the steps we have been taking to identify, assess and manage climate change risks. It has been prepared with reference to the recommendations made by the Task Force on Climate‑related Financial Disclosures (TCFD), which provides a framework for more effective climate change financial disclosures, addressing four key areas: governance, strategy, risk management and metrics and targets. Our second report was released in February 2021 with our Annual Result.  
Challenges and Outlook
Mitigating and adapting to climate change is a complex global issue and we recognise that achieving sustainable energy supplies requires widespread support and the cooperation of many stakeholders. GPT is taking an active role in meeting the many challenges, such as those outlined below:
Skills and expertise development (internally and externally)
Leading by example in specifications, contracts and briefs, for example GPT's new developments integrate world-leading sustainability expectations into briefs for design and development
Making sustainability data accessible through a company-wide computer system to provide reporting that meets the needs of all users, from site level to the Board
Participating in precinct programs including as a foundation member of both the City of Melbourne1200 Buildings project and the City of Sydney Better Buildings Partnership
Contributing to the Energy Efficiency Council training and accreditation project
Presenting at conferences and training courses such as for the Facility Managers Association and Australian Institute of Refrigeration, air-conditioning and Heating.
Industry standards
Active participant in industry technical working groups defining standards for energy and carbon management for operational buildings, including:

Better Buildings Partnership Environmental Working Group, which focuses on creating best practice guidelines for managing energy and water performance
National Carbon Offset Standard for Buildings technical working group
On-site energy generation
To help address barriers to implementing and connecting on-site energy generation to the electricity network, GPT is
working with the Property Council of Australia to encourage greater recognition of demand side management opportunities;
and using our experience in on site electricity generation as examples when barriers to greater uptake of distributed generation are being considered.
Value and rating of energy efficiency
GPT contributed to the Green Building Council of Australia development of the Green Star Performance tool for existing buildings to improve understanding of energy efficiency and environmental impact of existing buildings.
Tenant support
To improve tenant awareness and understanding of energy efficiency and renewable energy generation, The Group is:
holding Building Management Committee meetings to provide information to tenants on building performance and how the tenant space interacts;
using the GPT head office workspace to showcase energy efficient technologies along with best practice material and resource efficiency for tenants; and
conducting tours to renewable energy sites for tenants and other interested people.
Carbon Pricing
While Australia has moved away from a carbon pricing model it remains a strategy that could be reapplied in the future. GPT mitigates the risk of a carbon price through the energy efficiency program while any increased costs of electricity and gas creates a greater incentive for energy efficiency and renewable energy projects. For internal purposes, the cost of energy efficiency, renewable energy and carbon offsets provide an internal metric for costing the Group's achievement of its carbon neutral commitments.